Arts Council England launch DiCM Survey
21/2/2020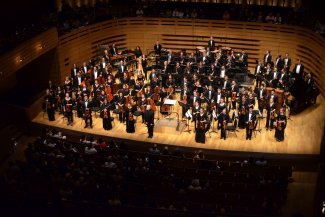 Arts Council England have commissioned ICM Unlimited, in partnership with DHA Associates, to deliver a year-long research project to help them get a picture of the current diversity of the sector and gather the insights that will help shape their work over the coming years.
Arts Council England say:
"We need a broad range of those associated with classical music to complete this survey – including instrumentalists, teachers and administrative and other support staff, including learning and participation professionals. Musicians' voices aren't always clear within sector surveys and we are keen to hear the voices of those who work on a freelance basis in addition to those on permanent contracts. The viewpoint and experiences who both those have just begun their career and those who have been involved in the classical world for several decades are equally highly valued. We want to hear from instrumentalists who perform in chamber ensembles, pit bands, and the commercial music sector, as well as those who play with orchestras of all kinds.
This research presents a fantastic opportunity for us to come together and investigate the classical workforce and its talent pipelines as they are now, to help us develop an informed view of what they could become in the future.
Every response matters! Respondents answers will help us to accurately understand the levels of diversity within the classical workforce and to expose what is hidden, as well as what is more visible or understood. It only takes 10 minutes and every response really counts.
We're particularly keen to hear from musicians because their individual voices are not necessarily always heard when organisations gather data on personal characteristics.
Once completed, we're confident the classical sector will be better equipped to ensure its continuing relevance to contemporary society, and send a strong message that it is genuinely open to anyone with passion and talent, whoever they are and wherever they're from.
Note that at this point in time, we are not seeking responses from composers, singers or pianists to the survey. We recognise the substantial impact these musicians have on the overall diversity of classical music, but have chosen to focus on developing a true picture of diversity within the classical orchestral sector – and those points in its workforce pipeline where diversity becomes diminished – because of the scale and impact of this body of musicians on the overall output of the sector."