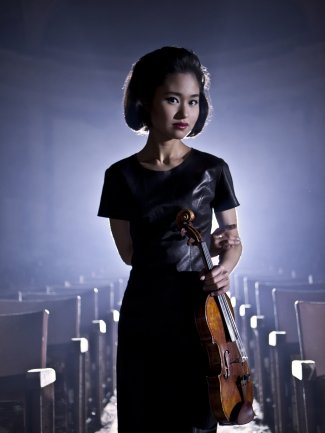 ©
Photo: Formento & Formento -YellowKorner
An interview with Sayaka Shoji
20/1/2020
Philharmonia
I first worked with the Philharmonia Orchestra in 2001, when I was 18, and have played with them several times since then. I'm always happy to join them. It is inspiring how well they communicate – we really make chamber music together. Their string section has such a warm sound and always matches what I'm doing in terms of colour.
I've never worked with Esa-Pekka Salonen, and I'm looking forward to it. There's something special about composers conducting – I've listened to his live concerts many times and the way he approaches music is not always conventional, so I'm looking forward with curiosity to how he understands Shostakovich's Violin Concerto.
It's special to come back to my home country. I feel that people follow my development as an artist and are so supportive, and I always try to give my best. Japanese audiences are curious listeners and they have such a wonderful appetite for classical music.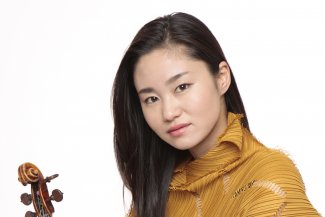 Shostakovich
Shostakovich's First Violin Concerto has a strong connection with the time it was written (1947 – 8) – the darkness and anxiety of Soviet society and what was happening in Shostakovich's spirit. Initially, it may seem cold and objective, but there's a compressed energy to it and as the work progresses you know that something will explode. Shostakovich's own character is evident in it, as is the Russian mentality and language. It is such a masterpiece and one of the most exciting violin concertos.
I feel a natural affinity with Shostakovich's sound world. I remember visiting Russia in 1998 – during the transformational time after the break-up of the Soviet Union but before it became globalised – when there were not as many shops as today. I felt the warmth of people's hearts, which they don't necessarily show like Latin people do. They're very hot inside and once you're a friend, you're a friend forever.
When I was 18, I fell in love with Dostoevsky – I picked up one book and immediately read all his others. It helped me to understand Shostakovich's universe. I also read Solzhenitsyn, Platonov and other literature from his own time. It helps to know how people think locally – the personalities in Dostoyevsky's books are not just literary figures, they come from real life. I also connected with the art – understanding Kandinsky's colours helped me, for example. Investigating Russian culture has helped me find connections and enriched my imagination.
It also helped having a Russian violin teacher, Zakhar Bron. He taught me the traditional ways of interpreting Russian repertoire – its musical language and phrasing, which is different from that of Brahms or Beethoven. With the Russian school of violin playing, you develop a very solid technical base with which to phrase and speak the music. Bron also talked about Russian stories and folklore, such as Baba Yaga, and introduced old Soviet films, which helped me discover that world.
I believe that every composer's work is connected to the language of their country and this is another clue for an interpreter trying to get closer to Shostakovich's music. I listen to Pushkin recited by the famous Soviet actor, Smoktunovsky, which helps me hear the Russian language in a more sophisticated way. People who grew up in the Soviet Union often recite Pushkin when they have special occasions, or if they're in a good mood – or drunk.
Preparing a work is a complex process which starts by analysing and approaching it from many different sides. But I've played the Shostakovich First Violin Concerto for so long that it has been cooked inside of me, and each time I come back to it I find something new and try out different things. When I'm on stage I try to empty my mind and let the music play by itself. It's a life-long process.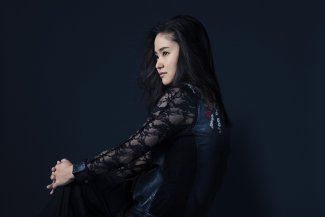 Video project
My mother is a fine artist, and I've always been interested in visual arts and how they relate to music – starting with opera, which was natural, growing up in Italy. When I was 17, I realised that whenever I play or listen to music, I have images in my mind. That's how I started to be interested in the subject of synaesthesia, the condition in which one sense is perceived as if by another – in my case, I identify sounds through sight.
I became interested in composers who wrote music for films, such as Prokofiev, who composed for Eisenstein, and realised that while there are many composers who write for film, there is not much in the other direction – films that describe music. It seemed a very natural idea to me, though, because many people create images in their minds for music, without being conscious of it. I wondered if I could make my own images visible, and that idea lay sleeping in me for a long time.
When I finished at Cologne Conservatoire I decided to move to Paris – Zubin Mehta told me that when you're young you should live in a big city. It was so stimulating, meeting artists, going to museums, operas, movies and theatre. I started painting again – I used to do that with my mother when I was little but stopped to concentrate on my violin career.
I started to look for a video artist who could help to realise my dormant dream. I was looking for a specific aesthetic that was organic rather than digital, to reflect the human warmth of music. I kept checking galleries and cinemas, and, finally, in 2007 I came across some video art in a small gallery, which was exactly what I was searching for. I met the artist, who happened to be very interested in classical music and happy to help, so I hired him. We worked together, filming and editing, and at the end of two years we had a three-minute film, featuring Shostakovich Preludes. We went on to make a few more, and I learnt how to make videos. I now do it all myself.
My working process is the same for video and violin. When I work on a piece, I study and analyse the score and then visualise the sound I want to produce and the structure, before I even pick up the violin. It's the same with video art – I try to catch the images I see naturally when I listen to the music. I write them down and imagine the entire structure before I work on the video.
The image that music evokes for me is quite concrete, and it doesn't change much as I work on it, but it is still a living thing and might change after a month or year, and after ten years it could be totally different, which offers an interesting perspective. Compared with the images I made with Shostakovich in 2007, I see something completely different today. It's the same with recordings.
I would like to make a bridge between visual arts and classical music, to connect the two worlds. I have many interesting visual artist friends, but they are generally not interested in classical music, and it's the same with classical musicians and art. This is understandable. If you're interested in a subject, it's normal to focus on it – one needs to invest a lot of time to become a violinist. But for me, everything is connected, and everything inspires me. Music is just one form of art. Without imagination and the help of poetry, films, literature and paintings I wouldn't be able to nourish myself and create a wider image of music.
The experience of watching my videos is quite new for the audience, and it needs some explanation. They don't necessarily understand that I made the images myself, because violinists haven't done that before. But I hope this might become a medium that attracts people from other universes, so they open the door and say, ​'Bartók – that's interesting', and for musicians to be curious about visual art.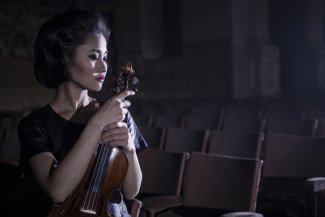 Federico Hernandez
Associate Director, Artist Management
Camilla Walt
Artist Manager