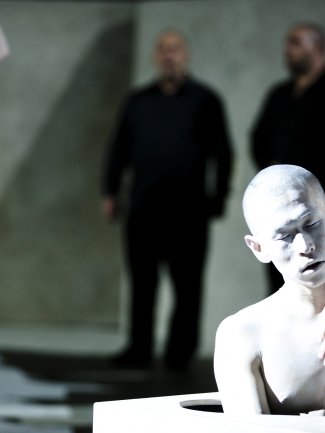 SIDI

LARBI

CHERKAOUI

AND

EASTMAN

IN

HONG

KONG
9/12/2019
World renowned dancer and choreographer Sidi Larbi Cherkaoui leads the Eastman dance company with his fascinating and captivating production of Puz/​zle in Hong Kong.
As Artistic Director of Eastman, Sibi Larbi Cherkaoui beautifully demonstrates the puzzles that lie behind human relations in his choreographic piece Puz/​zle through dance and physical theatre. Puz/​zle explores why certain connections succeed in coming together as an organic whole while others fail and whether they actually fail or if the failure lies in our perception of order and disorder. He aims then to question the seeming importance of order and linearity and to explore if there can be more than one way of solving a puzzle, of telling tale, of living time.
Puz/​zle led Sibi Larbi Cherkaoui to receive his second Laurence Olivier Award alongside the Eastman company who gained the title European Cultural Ambassador in 2013. Cherkaoui has made over 50 choreographic pieces for which he has won two Olivier Awards, three Ballet Tanz awards and the Kairos Price for his artistic vision.
He presents Eastman's ​'Puz/​zle' on 13 and 14 December in the Kwai Tsing Theatre, Hong Kong.