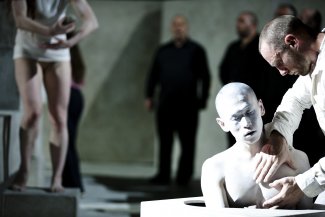 Sidi Larbi Cherkaoui / Eastman
Dance Companies
Rafi Gokay Wol
Director & Head of Arts Partnerships & Tours
Gallery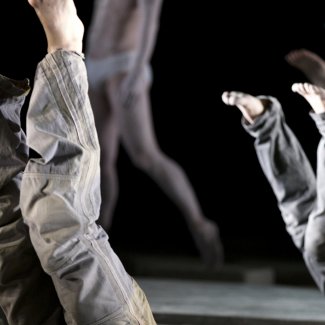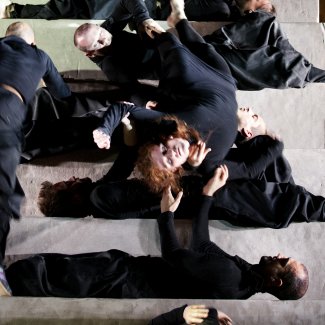 Sidi Larbi Cherkaoui's debut as a choreographer was in 1999 with Andrew Wale's contemporary musical, Anonymous Society. Since then he has made over 50 full-fledged choreographic pieces and picked up a slew of awards, including two Olivier Awards, three Ballet Tanz awards for best choreographer (2008, 2011, 2017) and the Kairos Prize (2009) for his artistic vision and his quest for intercultural dialogue.
Cherkaoui's initial pieces were made at les ballets C de la B – Rien de Rien (2000), Foi (2003) and Tempus Fugit (2004). He undertook parallel projects that both expanded and consolidated his artistic vision; d'avant (2002) with longstanding artistic partner Damien Jalet at Sasha Waltz & Guests company and zero degrees (2005) with Akram Khan. He has worked with a variety of theatres, opera houses and ballet companies. From 2004 – 2009 Cherkaoui was based in Antwerp as artist in residence at Toneelhuis, which produced Myth (2007) and Origine (2008).
In 2008 Cherkaoui premiered Sutra at Sadler's Wells. This award-winning collaboration with artist Antony Gormley and the Shaolin monks continues to tour the world to great critical acclaim. After his first commissioned piece in North America, Orbo Novo (Cedar Lake Contemporary Ballet) and a series of duets such as Faun (which premiered at Sadler's Wells as part of In the Spirit of Diaghilev) and Dunas with flamenco danseuse María Pagés (both 2009), he launched his own company Eastman, resident at DE SINGEL International Arts Centre (Antwerp).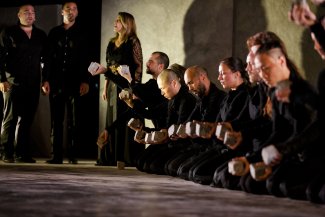 Spring 2010 saw him reunited with choreographer Damien Jalet and Antony Gormley to make Babel(words) which won an Olivier. That same year he created Rein, a duet featuring Guro Nagelhus Schia and Vebjørn Sundby, as well as Play, a duet with Kuchipudi danseuse Shantala Shivalingappa and Bound, a duet for Shanell Winlock and Gregory Maqoma as part of Southern Bound Comfort. In 2011 he created TeZukA and Labyrinth (for the Dutch National Ballet). In 2012 he created Puz/​zle, gaining him a second Olivier. That year he also collaborated with Joe Wright on his film Anna Karenina, for which Cherkaoui helmed the choreography.

2013 saw the premiere of 4D and 生长genesis (Eastman), Boléro (co-created with Damien Jalet and Marina Abramović, for the Paris Opera Ballet), and m¡longa (Sadler's Wells). He reunited with Joe Wright to co-direct A Season in the Congo at The Young Vic. In 2014, he created Noetic for the GöteborgsOperans Danskompani, Mercy (from Solo for Two) for Natalia Osipova and Ivan Vasiliev, which they performed at the London Coliseum and he directed his first opera, Shell Shock, for La Monnaie, with music by Nicholas Lens and text by Nick Cave.

In 2015, Cherkaoui directed his first full-length theatre production Pluto based on the award-winning manga series by Naoki Urasawa and Takashi Nagasaki at Bunkamura in Tokyo, bringing the beloved manga character Astro Boy to life on stage, and was movement director for Lyndsey Turner's Hamlet starring Benedict Cumberbatch at the Barbican Centre in London. He also made a trio Harbor Me commissioned by the L.A. Dance Project, and choreographed a new Firebird for Stuttgart Ballet. In the same year, Cherkaoui created a new production Fractus V for his company Eastman, in which he also performs.

Since 2015, Cherkaoui assumed the role of artistic director at the Royal Ballet Flanders, where he has created Fall (2015), Exhibition (2016) and Requiem (2017). He combines this function with his title as artistic director of Eastman and keeps creating new work along with the artistic entourage of this company, for example Icon (2016) and Stoic (2018), completing his dance trilogy for GöteborgsOperans Danskompani, Session (2019) with Irish traditional dance-exponent Colin Dunne, Nomad (2019) and 3S (2020), a suite of three solos for Kazutomi ​"Tsuki" Kozuki, Jean Michel Sinisterra Munoz and Nicola Leahey commissioned by TorinoDanza Festival. He directed the operas Les Indes galantes (2016) and Alceste (2019) for the Bayerische Staatsoper, Satyagraha (2017) for Theater Basel and Pelléas et Mélisande (2018) with Damien Jalet and Marina Abramović for Opera Vlaanderen. His most recent ballet commissions include Medusa (2019) with Natalia Osipova in the title role at The Royal Ballet in London, Exposure (2020) for the Paris Opera Ballet, and Laid in Earth (2020), a piece for four dancers of English National Ballet. Between 2017 and 2021 he choreographed several feature films, including Lukas Dhont's Girl and Marjane Satrapi's Radioactive, but also the yet to be released Cyrano by Joe Wright and Rebel by the Belgian-Moroccan directors duo Adil El Arbi and Bilall Fallah. In 2019, Cherkaoui made his Broadway debut as choreographer for the Alanis Morissette musical Jagged Little Pill, directed by Diane Paulus and with a book by Diablo Cody. For this production, he was nominated for a Tony Award in the category Best Choreography. He is the first Belgian choreographer to be nominated in this category.

Starting from the season 2022/23, Sidi Larbi Cherkaoui will direct the Ballet of the Grand Théâtre de Genève. He is also an associate artist at Sadler's Wells, London and Théâtre National de Bretagne, Rennes.
Rafi Gokay Wol
Director & Head of Arts Partnerships & Tours