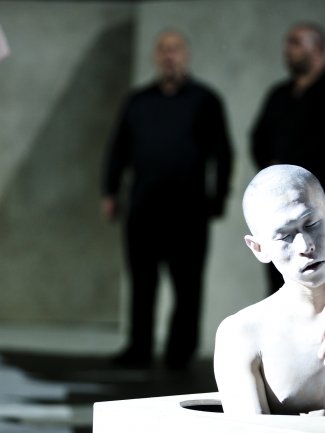 Sidi Larbi Cherkaoui / Eastman
Sidi Larbi Cherkaoui defies easy description: choreographer, opera director, dancer, composer… Artistic director of Royal Ballet Flanders as well as of Eastman, and associate artist at Sadler's Wells. The thirst to join hands with his counterparts has been a constant in his artistic DNA. Sutra (with the Shaolin monks and sculptor Antony Gormley), Dunas (with Maria Pagès), and zero degrees (with Akram Khan) are well-known examples. Recently, he teamed up with Irish dance-exponent Colin Dunne to create Session, which is currently touring the world. His work for other genres includes A Season in the Congo (with Joe Wright, starring Chiwetel Ejiofor, Young Vic), Shell Shock (La Monnaie), Pluto (Bunkamura), and Hamlet (by Lyndsey Turner, starring Benedict Cumberbatch, Barbican). The slew of awards he has picked up reflects this genre-transcending prolificity, and include two Olivier Awards, a Critics' Circle National Dance Award for Outstanding Male Performance (Modern), and the Europe Prize Theatrical Realities.
Founded in January 2010, Eastman was set up to produce and promote the work of artistic director/​choreographer Sidi Larbi Cherkaoui. Set in his native city of Antwerp (Belgium), Eastman forms the central point for all of Cherkaoui's work. Eastman is resident at deSingel International Arts Campus. Since the foundation in 2010, Cherkaoui created amongst othersBabel(words), Play, TeZukA, Puz/​zle, 4D and Fractus V under the wings of Eastman. Eastman also coordinates all the work of Cherkaoui for other organizations. International partners of Eastman include La Monnaie Brussels, Les Théâtres de la Ville de Luxembourg, Grande Halle de La Villette Paris, deSingel International Arts Campus Antwerp and Sadler's Wells London. Eastman is supported by the Flemish Government and the BNP Paribas Foundation. Eastman was European Cultural Ambassador 2013.