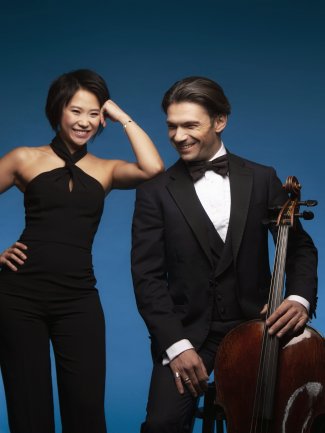 ©
Photo: Parlophone Records Ltd
Gautier Capuçon releases album with Yuja Wang
6/12/2019
Gautier Capuçon has released his latest album on Warner (Erato), a duo album with Yuja Wang. The album features César Franck's Cello Sonata, Chopin's Cello Sonata and Introduction and Polonaise brilliante, and Piazzolla's Le Grand Tango.
The album was recorded live in Koerner Hall, Toronto as part of the duo's North American tour last season. The pair were described as ​"finesse and fire" by the Toronto Star and, following their Carnegie Hall recital, The Strad commented:
"It might have been difficult to tell which members of this eager audience came for Gautier Capuçon's elegant intensity, or for Yuja Wang's fiery pianism. The reality is that the two of them combined were more than the sum of the parts."
Capuçon and Wang will give an extensive European tour in January 2020 including appearances at Elbphilharmonie Hamburg on 8 January, Auditorium de Lyon on 10 January, Barbican Centre London on 13 January, Herkulesaal Munich on 14 January, Vienna Konzerthaus on 17 January, and Philharmonie de Paris on 20 January. Later in the season they will return to the States for performances in Santa Barbara on 27 April and San Francisco on 28 April.
Teodora Masi (maternity leave)
Associate Director, Artist Management
Charlie-Rose Blockley
Manager, Composers & Artists