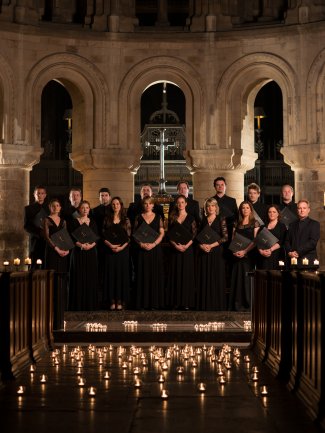 Tenebrae returns to Australia
30/10/2019
The UK choir has announced its second tour of Australia in January, with concerts in Sydney and Melbourne
Tenebrae will make its second Australian tour in January 2020, with two performances at the Sydney Festival and one at the Melbourne Recital Centre, conducted by Nigel Short and managed by HarrisonParrott.
The singers start in Melbourne on 20 January with Spanish Glories of the Sixteenth Century, a programme of the Renaissance polyphony of Lobo and Victoria, including Victoria's 1605 Requiem Mass, which Short describes as ​'one of the iconic masterpieces of the entire Renaissance canon'.
They then travel to Sydney to perform the same repertoire at the Sydney Festival on 21 January, as well as Allegri's Miserere mei, Deus. The next day they present Music of the Spheres, a collection of choral works by British composers from Elgar and Parry to Bob Chilcott and Judith Bingham, inspired by writers such as Donne, Shakespeare, Tennyson and Milton.
The centrepiece is Parry's Songs of Farewell – six motets based on texts by Campion and Donne, among others. These are emotional works, according to Short, who explains: ​'Parry is fastidious about what he wants, marking everything down to quiet dynamics to make the musical idea come out, supporting the text the singer is trying to communicate. It is very moving – I've often turned around at the end to see members of the audience wiping away a tear – singers, too.'
The programme for Music of the Spheres is based on the choir's Grammy-nominated CD of the same name, which Choir & Organ magazine reviewed saying, ​'Tenebrae's youthful sound is not only irresistibly appealing but also extremely well suited to this very enjoyable programme.'
Tenebrae was founded in 2001 by former King's Singer Nigel Short, and first toured Australia in 2017. Reviewing their 2017 concert in Melbourne, Jon Jackson of Classical Melbourne wrote: ​'It takes such dedication and persistence to bring out the best in artists each and every time, and that is why the Tenebrae choir has been so awarded for their excellence… If there is ever an opportunity to see and hear this choir, I highly recommend that you take it.'
Dates:
Monday, 20 January 2020, Melbourne Recital Centre, Melbourne
Tuesday, 21 January 2020, Sydney Festival, City Recital Centre, Sydney
Wednesday, 22 January 2020, Sydney Festival, City Recital Centre, Sydney