Highlights from ​

'

50

Years in a Day' concerts at Southbank Centre
9/10/2019
Luckily, it didn't rain on our big day, but we came prepared for our photoshoot with four of our young artists: Elim Chan, Víkingur Ólafsson, Jess Gillam and Zwakale Tshabalala.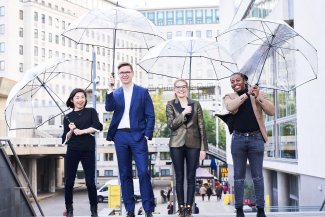 As the performers arrived for their dress rehearsals ahead of the afternoon concerts, we managed to gather together the six pianists (from left): Tamar Halperin, Pierre-Laurent Aimard, Tamara Stefanovich, Daniel Kharitonov, Alice Sara Ott and Víkingur Ólafsson. There was some debate as to what one calls a group of pianists. A board? A stave?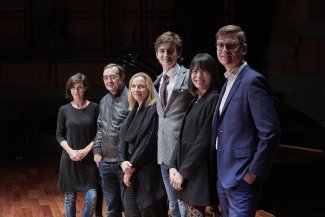 Daniel Kharitonov and Leticia Moreno rehearse in the morning for their performance of Falla's Suite Populaire españole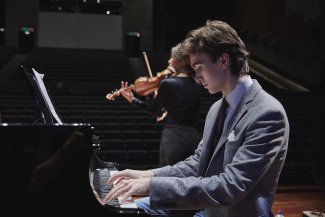 Through the letterbox: Víkingur Ólafsson warms up for his performance at Queen Elizabeth Hall.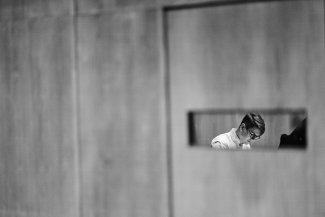 István Várdai looks for inspiration – and his button hole – as he waits to go on stage.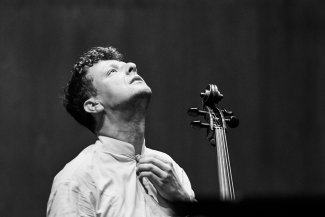 A string conference with Pekka Kuusisto, Patricia Kopatchinskaja, Alban Gerhardt, István Várdai and Leticia Moreno.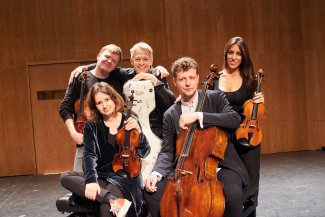 At our first concert at 12:00pm inside a sold out Queen Elizabeth Hall, Jörg Widmann performed his own solo Fantasie, which explored every possible clarinet sound and texture.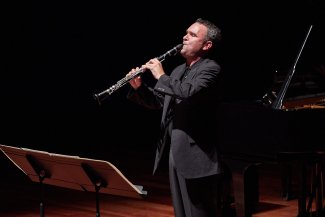 These boots are made for walking: Jess Gillam prepares for the first of the three HP50 concerts, performing Piazzolla's solo Tango-Etude No.3.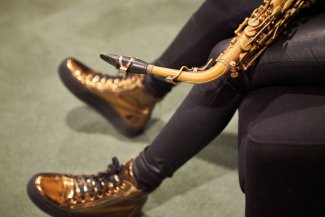 Tahlia Petrosian – Producer of the HP50 day – takes a quick breather backstage with Jess Gillam.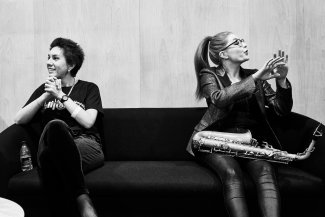 Lost in the moment – István Várdai and Víkingur Ólafsson perform Debussy's Sonata in D minor.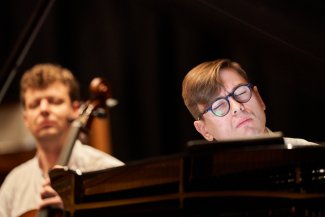 Andreas Scholl and Tamar Halperin collected together a selection of classical and folk works ranging from Purcell to Vaughan Williams.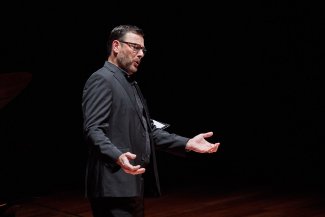 Jörg Widmann is greeted backstage after his performance by Jasper Parrott.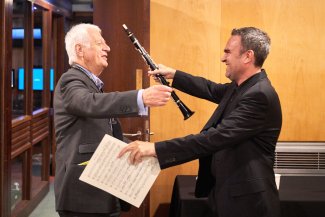 Alice Sara Ott prepares for her performance of Chopin, Satie and Debussy with some non-musical brain exercise.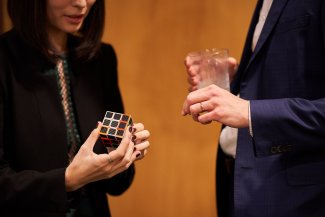 Alice Sara Ott performed works from her latest album, Nightfall.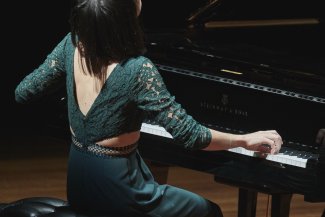 Matthew Law, an Artist Coordinator, helps out backstage at the Queen Elizabeth Hall. Matthew came to HarrisonParrott for six months as an intern on the Creative Access scheme, which aims to improve diversity on the administrative side of classical music. We are delighted that he has recently been made a permanent member of the HP family.
François Guyard and Sabine Frank, General Manager and Director of the French and German offices respectively, prepare to make their short speeches on stage.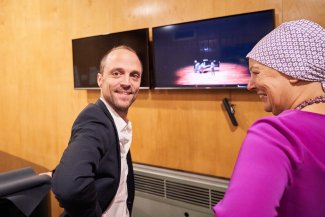 Andreas Scholl and Tamar Halperin take their applause at the Queen Elizabeth Hall.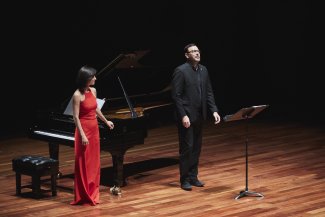 Between the first two concerts, Southbank Centre's Director of Music Gillian Moore led a panel discussion about the responsibilities of the 21st-century musician, as well as the new HarrisonParrott Foundation, with Jess Gillam, Pekka Kuusisto and Zwakele Tshabalala. Jess, one of the Foundation's trustees said: ​'In today's society where we have huge amounts of conflict arising from so many different areas of life, as musicians we have the capability with the power of music to unite people and bring them together in something that stands above rules and regulations, something that's part of the fabric of who we are as a society.'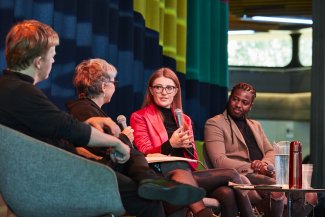 At the end of the panel discussion, South African tenor Zwakele Tshabalala had the audience rapt with his a cappella version of ​'Tra voi belle' from Puccini's Manon Lescaut. Zwakele is currently studying for his Master of Performance at the Royal College of Music on a full scholarship and has been supported by the HarrisonParrott Foundation.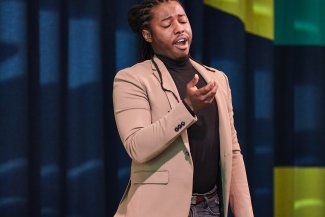 In a Sentimental Mood: Lucienne Renaudin Vary played Duke Ellington's classic.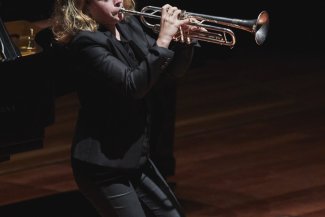 Heading into our 3:30pm concert also at Queen Elizabeth Hall, Leticia Moreno and Daniel Kharitonov played de Falla's Suite Populaire españole.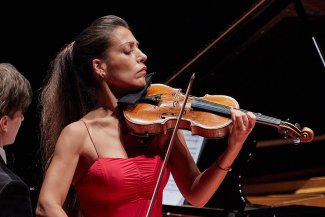 Ksenija Sidorova and Alban Gerhardt evoked the Argentinian ballroom with Piazzolla's Le grand tango.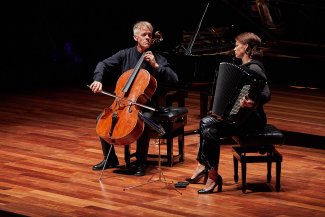 Barbara Hannigan mesmerised the Queen Elizabeth Hall audience with her selection of Wolf's Goethe Lieder, accompanied by Tamara Stefanovich.
Meta-selfie: Tamara Stefanovich takes a snap with Barbara Hannigan and composer George Benjamin.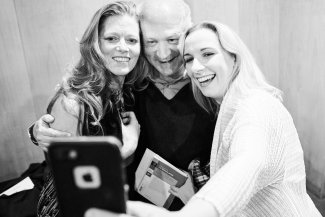 Director Lydia Connolly introduced the second half of the concert and the new HarrisonParrott Foundation. She explained the intention behind it, saying: ​'Music itself is inclusive and diverse. It can bring huge satisfaction and profound joy to anyone and everyone. It can bring together all kinds of people, regardless of age, status or colour. But the world around us doesn't always think that or enable it – and that's what we want to change. We hope that our programmes may spark new ideas and possibilities. We have big hopes and innovative plans. Change starts with one small step and today we're making that step.'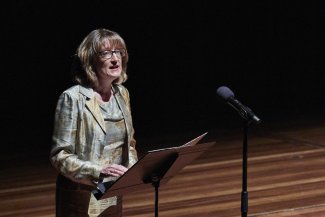 Down the players' tunnel – Alban Gerhardt makes his way to the stage of Queen Elizabeth Hall for his performance of the Prelude from Bach's Suite No.6.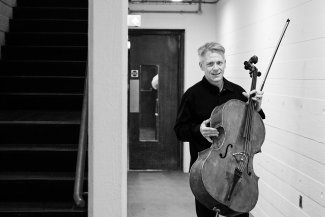 Director Lydia Connolly chats with Artist Coordinator Spiros Chatziangelou and Marketing Manager Fiona Livingston. Behind them on the wall you can see the battle plan for the day.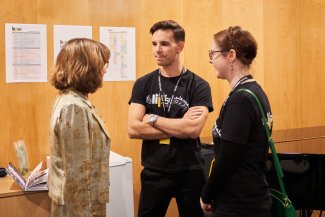 Patricia Kopatchinskaja and Pekka Kuusisto hopped (literally) on stage to perform For Lydia – a piece specially written for the occasion and for HP Director Lydia Connolly – by Péter Eötvös. They followed it with a selection of Bartók and Ligeti duos, their joy in the music and in performing together palpable.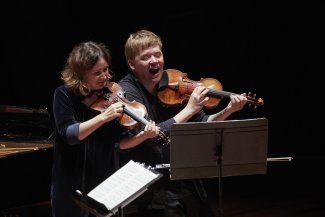 Pierre-Laurent Aimard and Tamara Stefanovich rounded off the second concert with the London premiere of Harrison Birtwistle's Keyboard Engine, with the composer listening in the audience.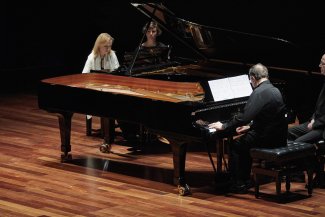 In the break of the orchestral rehearsal, we managed to gather together the evening's four conductors – Vladimir Ashkenazy, Paavo Järvi, Elim Chan and Santtu-Mattias Rouvali – and Jasper, for a quick photoshoot.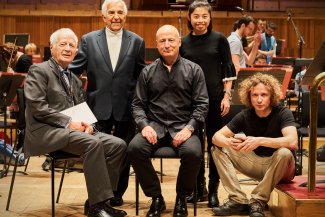 Santtu-Matias Rouvali rehearses Strauss with the Philharmonia – The Guardian review of his performance described him as ​'expressive to his fingertips'. Read The Guardian review here.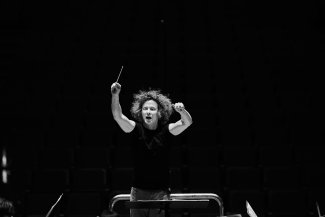 The stage is set and balloons blown up for the celebratory reception in the fifth-floor function room of the Royal Festival Hall.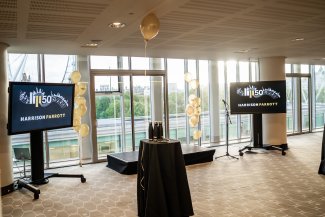 The take-home bags for the guests are packed and ready to go.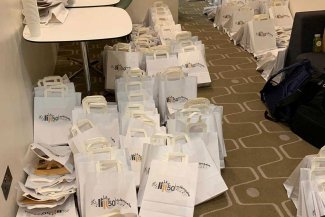 Jasper gave a brief speech thanking guests for coming from all over the world and the HP team for their work.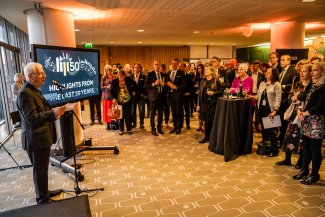 Leia Zhu, HarrisonParrott's newest artist, performed Kreisler's Recitativo and Scherzo to the assembled guests.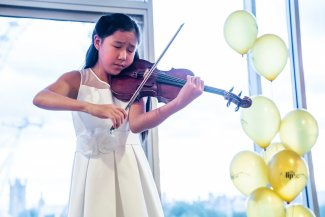 At 7pm, the Philharmonia Orchestra and Paavo Järvi came on to the Royal Festival Hall stage, but there was a collective gasp as the house and stage lights went out leaving the hall absolutely dark. A spotlight came on to reveal Barbara Hannigan, who sang Nono's unaccompanied Djamila Boupachà. One of the talking points later and one of the mysteries of the day was how Hannigan had managed to climb on to the stage in the pitch black (wearing high heels). The Nono segued perfectly into Schubert's ​'Unfinished' Symphony.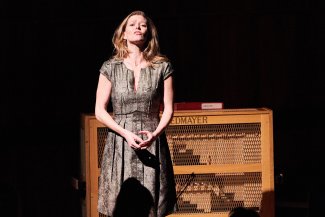 'You – yes, you!' Paavo Järvi coaxed some extraordinary colours from the Philharmonia Orchestra in his performance of Schubert's ​'Unfinished' Symphony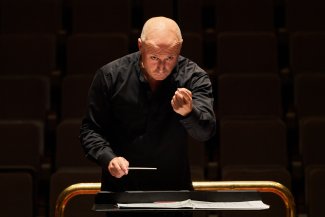 After the Schubert, Santtu-Matias Rouvali, the Philharmonia's Principal Conductor-designate, conducted Strauss' impassioned Der Rosenkavalier Suite, based on the composer's operatic tale of decadent 18th-century Viennese aristocracy.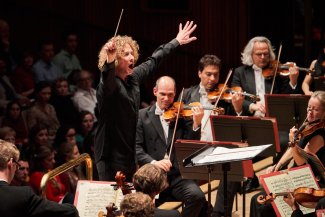 After the interval, Jasper came on stage to welcome the audience and thank the musicians. In launching the new HarrisonParrott Foundation, he also delivered a hard-hitting attack on today's political climate, including ​'the erosion of fair and equal access to both the experience of and education in the creative arts for our young people,' and he warned of the risks of Brexit to the creative arts. He also underlined the importance of musicians in this context: ​'It seems to me that it is to the artists that we must look for the championing of those essential and irreplaceable values which can nurture healthy and hopeful societies for everyone – values which are so egregiously ignored by so many of the political classes of our day.' Read his full speech here.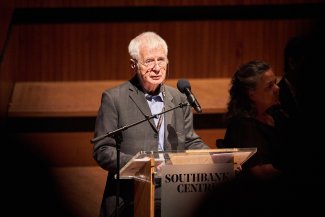 After the interval, Elim Chan conducted the Philharmonia Orchestra in Tchaikovsky's turbulent Overture to Romeo and Juliet. She has described conducting the Philharmonia as being like driving a Ferrari: ​'The players read every single little gesture you make. They are efficient and free at the same time. They are kind, classy and fast.'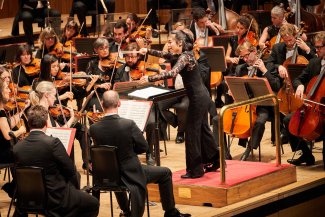 Elim Chan comes off stage after conducting Tchaikovsky's Overture to Romeo and Juliet.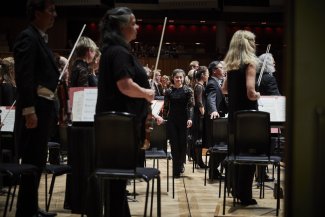 The last piece on the programme was Elgar's Enigma Variations, conducted by Vladimir Ashkenazy, whose association with the company since its inception has been so key in its success. There was a surprise in store though. The orchestra played an arrangement of Happy Birthday made by the Philharmonia's own violinist – arranger Julian Milone, composed with Elgar and Strauss-like soundworld that made it the perfect end not only to the concert, but also to the whole day. Ashkenazy brought Jasper on stage, and the two shared the final moments of the evening.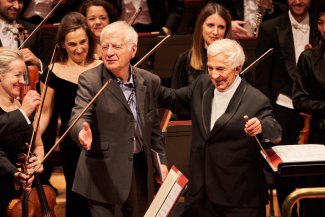 After the concert, there was more time for artists, managers and guests to meet and celebrate. Jasper gave a speech thanking some of the people who have been so important in the foundation of the company, including James Wolfensohn, George Loudon and Vladimir Ashkenazy. He also paid tribute to the late Terry Harrison, his partner at the company's inception 50 years ago.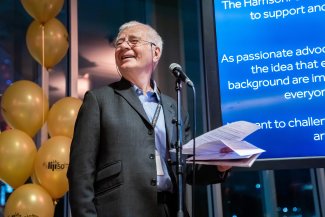 Octogenarian Vladimir Ashkenazy skips on stage for his turn conducting the Philharmonia Orchestra, whose Conductor Laureate he has been since 2000.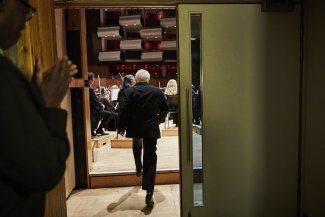 Vladimir Ashkenazy and Jasper Parrott backstage at the Festival Hall after the concert – the two men have known each other since the 60s, when Jasper Parrott was at Ibbs & Tillett, which then managed Vladimir Ashkenazy.
Director Lydia Connolly, who has been at HP for half its 50 years, paid tribute to Jasper and half-quoted The Waterboys in saying to him, ​'We saw the crescent, you saw the whole of the moon.'