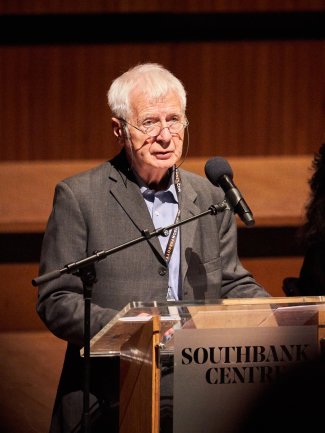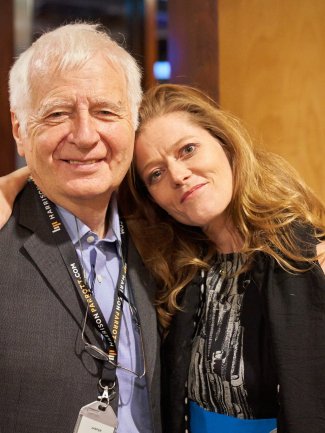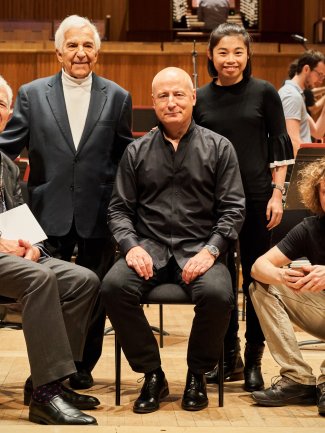 Jasper Parrott's speech given at ​

'

50

Years in a Day'
7/10/2019
Jasper Parrott's speech given at the final concert on Sunday 6 October
"

Dear wonderful artists, dear friends and colleagues, dear music lovers: welcome to the last part of our

50

years in a day of music.

I am Jasper Parrott cofounder and head of HarrisonParrott whose half century of growth into perhaps the most international and innovative music and arts management company we are celebrating with all of you today. I hope you will indulge me for some minutes now before the music starts again — and I promise not to ask you again before our centenary in October

2069

There may be many among you tonight who may wonder what actually we do — and I could talk about this easily for an hour — but never fear I'll restrain myself and explain that we see ourselves as the extended arms and enabling agents dedicated to supporting artists in realizing their aspirations and supporting their ambitions, always representing them as well as we can from their point of view.

This was the core agenda of what Terry Harrison and I sought to achieve in what was then a very novel concept when we started together in October

1969

 — and these principle still guide us today.

By now we have grown to a company of over

70

based primarily in London but additionally with a by now long and successfully established office in Munich and a more recent enterprise in Paris. In addition over the last few years we have added PolyArts an exciting and enterprising daughter company which is very successfully active in a wide range of musical and artistic genres.

We have become a three generation company representing four generations of artists and we are very proud to be a very international society with more than

20

different mother tongues spoken and a wide range of nationalities and culture all working harmoniously together with a strong sense of common purpose. This comes from our shared commitment to our artists and to their work and to the values enshrined in music and in the creative arts and the existential role they play in the nurturing of aspirational, harmonious, tolerant and equal societies

For those who have read Peter Wohlleben's wonderful book ​

"

The Hidden life of trees" — and if you haven't I strongly recommend it — I see music and the arts as providing the same sort of infinite and often invisible interlocking lines of value and sustenance to society just as the immense underground network of roots and fungi cooperate together to support and sustain so much of what remains of our natural world.

Today our artists have very generously offered a fascinating overview of the richness and power of music both rooted in the treasure trove legacy of the last

300

years with its astonishing and infinite diversity and its still continuing relevance — and in exciting new work of our times including the world premiere of Peter Eötvös's for Lydia, the London premiere of Harry Birtwistle's Keyboard Engine and Jörg Widmann's performance of his own solo Fantasie.

Despite the numerics of this day this celebration is not really about the past but about what comes next – I like to say these days ​

"

I have no memory for the past only for the future" and indeed we and the artists are always looking forwards to what we can bring to fruition

2

,

3

,

5

or more years ahead and in a world which is changing with ever greater speed and complexity we relish the challenges and aspire to continue to be in the Vanguard of innovation as we have always endeavoured to be these last five decades.

We are much encouraged in this mission by the excitement of being a part of what is surely a golden age of music and in the arts and the main drivers of this of course are the artists.

It is they who dedicate themselves so unstintingly and generously to bringing their creativity their imaginative powers and the risks they take every day of their lives to inspire audiences and individuals longing for uplifting and truthful experiences beyond the banal cacophonies and the degraded and dishonest selfishness of so much of the political discourse swirling around us around the world today.

To add to Greta Thunberg's acerbic comment that in a world where adults behave like children children must learn to behave like adults, it seems to me that it is to the artists that we must look for the championing of those essential and irreplaceable values which can nurture healthy and hopeful societies for everyone — values which are so egregiously ignored by so many of the political classes of our day.

In all of the interminable quarrelling and shouting about Brexit we have heard virtually nothing about its consequences for the creative arts surely one of the great glories of our country and so much of it flowing from the freedom of movement and multilateral creative exchange — not to mention the huge contributions made by the creative sectors to employment and to the economies of the

UK

as well as to Europe.

One of the consequences of the shortsighted policies of successive governments has been the steady erosion of fair and equal access to both the experience of and education in the creative arts for our young people as the role of the state has been more and more passed over to the tireless work of many wonderful associations and enterprises doing their best to reverse the neglect which has been so damaging to the health of our civil societies.

I am happy to be able to announce that one of the programmes of our anniversary is the launch of our

HP

Foundation which although modest in its initial capabilities aims to grow our contribution over time to support partners already working with these important missions, the first two of which are the admirable Triborough music hub which delivers high-quality music education for all and Creative Access which supports the training of and access to employment for young people from under represented communities throughout the

UK

.

I hope that through our collaboration with these and other partners their brilliant work will be better known and more widely — and generously — supported.

And now I'd like to conclude with some much deserved thank yous

Firstly with additional appreciation for their patience for having had to sit here on stage while I have been talking, thanks to the wonderful musicians of the Philharmonia, this world class Orchestra with whom we have been blessed to have had a very long and fruitful cooperation over so many decades, sharing so many artists and projects and amazing concerts — and organizing countless tours all over the world.

I am sure everyone will share with me the conviction that the symphony orchestra in its extraordinary evolution during the last

350

years is one of the greatest achievements of mankind and of the human genius — just think of the virtuosities and artistries of

100

or more highly trained and individually excellent artists working harmoniously together to create sublime performances of the incomparable legacy of music written throughout the centuries by so many composers of genius, a process still continuing on into our times – even the amazing development of instruments and the science and mysteries of sound in all departments of the orchestra — all adding up to make up this unique and enthralling world of inspiration

I have long thought that the symphony orchestra should be designated a world heritage treasure and the Philharmonia is surely one of the very best of the best as a most noble ambassador for these aspirations

My heartfelt thanks go out to all of our wonderful artists who have honoured us by their performances today including the four conductors of tonight's concert Paavo Järvi, Elim Chan, Santtu-Mathias Rouvali the Philharmonia's Chief Conductor Designate and to Vladimir Ashkenazy their Conductor Laureate — also to Barbara Hannigan for her intentionally unannounced performance of Nono's haunting Djamila Boupada

Also to my wonderful colleagues at

HP

who have worked so hard together over the last weeks to put together the hugely complex arrangements for this day of concerts and for the work on the Foundation and for the ongoing

HP

50

programmes for the rest of the season

Finally my most deeply felt gratitude to Vladimir Ashkenazy who is truly the founding father of this company. Without his brave and generous decision to join us at the very beginning and his loyalty forbearance and support over the last

54

years there would never have been an HarrisonParrott at all and I would not be standing here before you now.

Thank you all for listening to me and please enjoy the rest of this unforgettable day.