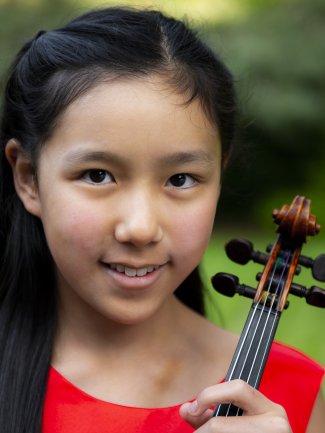 HARRISONPARROTT

WELCOMES

BRITISH

VIOLINIST

LEIA

ZHU

TO

ITS

ROSTER

FOR

WORLDWIDE

GENERAL

MANAGEMENT
25/9/2019
British violinist Leia Zhu has joined the HarrisonParrott family, and will be introduced as our youngest artist to friends, colleagues and music lovers at our HP50 celebrations at the Southbank Centre on 06 October.
Aged only 12, Leia has already performed at prestigious festivals and venues in more than 15 countries around the world, and as ​'The Violin Girl', she regularly posts YouTube videos that share her joy of music and creativity, attracting thousands of subscribers and views.
Her highlights last season included performing Wieniawski's Concerto No.1 with the Mariinsky Symphony Orchestra at the White Nights Festival in St Petersburg, her debut at the renowned Rheingau Musik Festival, and playing Waxman's Carmen Fantasy with the Novosibirsk Symphony Orchestra at Vadim Repin's Trans-Siberian Art Festival, which was broadcast on BBC Radio 3.
Leia's talent and love of the instrument were discovered early on, and she made her debut aged four at the North East Last Night of the Proms in Newcastle City Hall, in front of an audience of thousands. She says of performing: ​"I love the creative processes of discovering new music and how the composer wanted it to be played. I'm also trying to search for personal approaches to each piece I play. Every concert, I try to do something different, to experiment. For me, that is the beauty of music – it's very creative and truthful."
She currently combines her international solo engagements with schoolwork, a broad music education at Junior Guildhall, and private studies with pedagogue Itzhak Rashkovsky, as well as attending the elite Zakhar Bron Academy in Switzerland, where she has a full scholarship.
A passionate advocate for classical music, she regularly posts videos on YouTube that offer insights into music and the life of a young artist. She says: ​"I want to reach out to people, no matter their age, and inspire them to have a love of this wonderful music. I want to introduce it to people who might not have had the chance to hear it, to show the richness and how awesome classical music is. It deserves the widest audience."
In 2018, Leia was invited to perform with Festival Strings Lucerne at the Lucerne Festival at KKL, and her performance of Tchaikovsky's Souvenir d'un lieu cher Op. 42 and Dance of the Goblins by Antonio Bazzini, with Festival Strings Lucerne at the 2017 MozartFest Würzburg, was broadcast by BR/​Deutschlandradio.
Jasper Parrott
Executive Chairman
Katya Walker-Arnott
Artist & Project Manager