Stephen Waarts pays tribute to Aaron Rosand
12/7/2019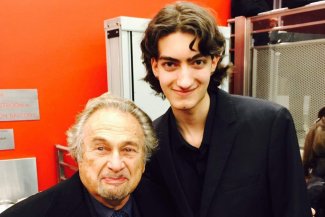 Violinist Stephen Waarts pays tribute to his teacher Aaron Rosand, one of the great old-school violinists, who died on 9 July, aged 92, and describes how the renowned pedagogue helped him find his own voice
"His way of playing was extremely classy, elegant and full of old-school style, and he always wanted to work on the little things that would help me play like that"
I went to study with Aaron Rosand at Curtis Institute when I was 15. At the beginning lessons were mainly about technique, especially about my shoulder and right arm, and he helped me to understand how to produce a sound. He also taught me the importance of finding the style of each composer, how to be elegant and how to bring out different colours. He would always talk about finding my own voice.
The first thing you notice about his playing is his sound. Even in lessons, at the age of 84, which is how old he was when I went to study with him, it was effortless. Many great violinists make big, beautiful tones by pressing a lot with the right hand. He espoused the principle that you shouldn't press too much. He would say that the violin is not a trumpet and that there is a limit to the amount of sound you can produce. Somehow, he still had a big sound, which he achieved without pressing.
He was very creative in violinistic things and always tried to find the best way to bring out a piece. He was especially good in what one might call ​'mediocre' pieces and little encores – not necessarily by the great masters. He would change something or play what's written in such a way that you would think they were the best.
He was interested in style and how to express the specific style of any piece. He was always the pickiest with me on Classical repertoire – in romantic and contemporary music he was relatively pleased, but with Mozart and Beethoven he wanted to hear it over and over to make sure I was on the right track.
When I moved to Germany to study, he was very happy that I was going to live in Europe. He spent a lot of time here throughout his career and enjoyed it. He said living here would help me with German repertoire, which he always most critical of in my playing. He thought it should be more serious, and said, ​"When you go to Germany and see the big buildings with the big columns you will understand how to play it."
He was right. For example, over my five years with him, I worked most with him on the Brahms Concerto and he was never happy: there were a few places where I would know exactly what he was going to say – I'm sure all his students know these places. He always wanted to hear them again. But after I moved to Germany, I played it to him and he said it was on the right track, which made me very pleased.
He had various phrases he would use when he wasn't satisfied. He liked slides more than most violinists today do – he was old-school in that respect. If you didn't use enough, he would say it was ​'as dry as dust' or ​'antiseptic', or that you were playing it ​'like a typewriter'. If you held a note too long, he would say he could go and get a coffee in the meantime. His vocabulary of euphemisms could seem quite harsh if you didn't know him.
His way of playing was extremely classy, elegant and full of old-school style, and he always wanted to work on the little things that would help me play like that. He encouraged me to experiment with fingerings and bowing, and constantly to keep searching. He was similar to Nathan Milstein in that he was always changing his fingerings and bowings to bring out different aspects of the piece.
He used to say that it's not enough to be literal. I have always been concerned with doing what the composer wrote and he encouraged that, but it wasn't enough for him. He believed that performers today think that playing only what is written and doing everything right makes them great musicians. While you have to understand what the composer wanted, you should try to put your own stamp on the music – as an artist you have to find your own voice.
He changed the way I play in so many ways. I think about him every day when I practise, and there are not many people one can say that about.