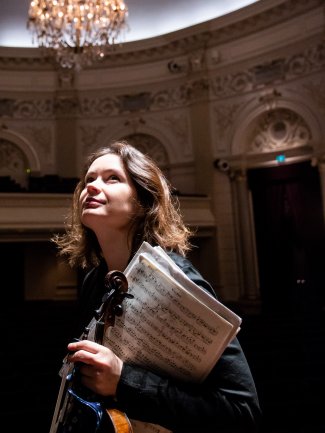 Patricia Kopatchinskaja presents climate change concert in Berlin
24/5/2019
Violinist and artistic director, Patricia Kopatchinskaja presents her second staged project, ​'Dies Irae' with members of the Orchester des Wandels in Berlin on 31 May as part of their initiative to tackle climate change. The concert takes place at eWerk, an industrial space in the city's Mitte district and proceeds from the concert go to the NaturTon Foundation, which supports projects of the World Wildlife Fund (WWF) in India and Moldova.
Kopatchinskaja's second staged project was originally premiered at the Lucerne Festival in 2017 and features music from Gregorian chant and early baroque to composers such as Scelsi and Ustwolskaja. The project had its North American premiere at last year's Ojai Festival where Kopatchinskaja was Music Director.
For more information and to buy tickets please click here.
Ariane Levy-Künstler
Associate Director, Artist Management
Camilla Walt
Artist Manager