Karoline Melstveit: My Music Journey
5/4/2019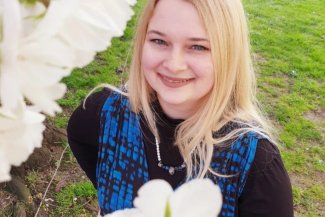 By: Karoline Melstveit (Artist Coordinator at HarrisonParrott) with Alina Pullen.
My family are not musicians, I don't believe they fully understand classical music. When I was seven years old a music teacher came to my school and asked if anybody wanted to learn to play an instrument. I love volunteering for everything, and that is how my journey started. I played melodica for one year, then flute for two before settling on saxophone. I started playing in a school band, then added another wind band, then another and another.
Education is free in Norway. We do have specialized music high school programs, but I did not attend one. My family and I thought it would be better for me to attend a science-based high school, to keep my options open for the future. So, I spent the days studying mathematics, economics, chemistry and biology, and the nights and weekends studying music. I graduated high school with the ability to play saxophone, but that is not enough to get accepted at a Norwegian conservatory. You must also to be skilled in music theory, solfege and harmonics. I had little to no training in this and decided to spend a year at an all-music boarding school. It was an intense year with lessons 6 days a week and endless practice opportunities, and this paid off. I was accepted into the Grieg Academy of Music.
In my experience, Norwegian conservatories are a bit different. Most of the students are well in their twenties and the classes are very small. The university will not necessarily accept a lot of students if there is no marked for their specialization. When I got accepted at the Grieg Academy, no other saxophone student had been admitted for three years, and all the most recent graduates were men. I believe there were only two students majoring in classical saxophone performance accepted in Norway that year. Being a student at the Greig Academy of music was an amazing experience, but I wanted to meet more musicians specializing in classical saxophone. Together with my quartet at the time I travelled to St. Andrews for the World Saxophone Congress. At the congress there were a handful of spots for conservatory students to participate in master classes with the great masters. I knew it was a long shot since there were thousands of participants in the congress, but I was lucky enough to get chosen and get to perform for Carina Rascher, one of the original members of the Rascher Saxophone Quartet. She took a liking in me and offered me to come to Germany for some more lessons. She also got me in touch with Andres van Zoelen, who would become my next conservatory professor. I left the Grieg Academy and transferred to Fontys School of Fine and Performing Arts in the Netherlands. I was finally able to be a part of a full saxophone class with about 10 other students, and I got the opportunity to travel and attend workshops and seminars all over Europe. I studied with and became friends with the members of the Rascher Saxophone Quartet and the Rascher Saxophone Orchestra, and was even asked to perform alongside the latter, which was such an honour.
After having had the chance to play and learn from such amazing musicians I realized I wanted to study arts management and explore the industry from a different angle. My friends and family were under the impression that if you study music, you will become a music teacher. But that was not the path I wanted, and I think my strength lies much more in management rather than education. I decided to move to America to attend the University of Houston, and while I was there, I had a graduate placement at the Houston Symphony where I discovered a whole new world of music management. This made me realize that there are a lot of ways to influence and support classical music, and that I do not necessarily need to be on stage myself in order to make a difference. Last year I came across an article that listed the 20 most influential people in the Norwegian music industry, and the list ranged from musicians to agents, producers and orchestra managers.
Throughout my studies my family would always try to attend my recitals and concerts. There are no musicians on my family tree but that does not mean that they do not like music. My father loves rock music and since I was (almost) old enough he would bring me to concerts in my hometown. I think they see the value in classical music, but that they cannot fully understand it. My family is more focused on business rather than the arts, and many may think that music and business not necessarily correlate that well together. But I don't believe that, I think one can complement the other. In many ways there are a lot of similarities between the two fields – you must study and make sure you know the task at hand well enough to do your best in a performance setting. I think that my business mindset helped me improve as a musician.
In Norway, studying music is not something that is only available to children of affluent families. Everyone will receive training through the public school-system, and the threshold for joining local school bands or orchestras are quite low. A lot of the funding for such organizations come from ​"dugnad", which means that all the members and their families come together and work to earn money on behalf of the organization. It does not matter where you come from, everyone will contribute the same. A taxi driver may be picking garbage from a stadium together with an oil executive, and a lawyer may be serving food at a local fun-fair together with a store clerk. In my wind bands we have always had members from all walks of life, but that may not be that obvious when everyone comes together to make music. Where I come from, you can really be whatever you want if you work for it. It does not matter much what family you are born into; the government will be there to support you regardless of your parent's bank accounts. So, studying music is not considered something posh in Norway, but just rather something rare.
I believe that attending a concert should still be something special.
Don't get me wrong – I am not saying it should be an event only open for the wealthy and affluent, but rather that one should acknowledge that going to a concert may require more preparation than just turning on a TV. I think it is great that a lot of the orchestras now have pre-concert talks, and that this can help people understand the meaning behind the artistic programming and the interpretation made by the musicians. Large performing arts organizations are utilizing online marketing tools more and more, and I think it is a good way for the (potential) audience to get familiar with the program before even buying tickets to a performance. After all, how often would you buy tickets to the movies without even watching the free trailer first?
I think there is a lot of focus on endorsing new music, and there are a lot of great composers that deserves to be praised and promoted. I work for Péter Eötvös and his music is amazing. But sometimes I believe musicians choose to program music they enjoy playing without giving much thought to how the audience will receive it. It is great and necessary that artists play for their own development and pleasure, but if the goal is to share music with a greater audience, I think it is important to keep in mind that most people do not have a degree in music and lack the knowledge and understanding that comes with decades of studying. A performer can use his or her abilities to solve an intricate puzzle piece of music, but what if the audience cannot see the beauty in what the pieces represent? Is it right to marginalize a significant part of the audience for the sake of supporting modern music? I think that if the programming tells a story and the music has meaning behind it, it does not matter if the composer lived in 1719 or 2019.