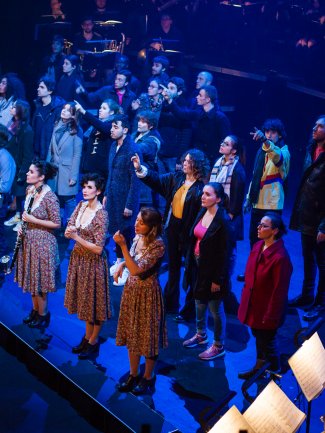 Maxime Pascal Presents Stockhausen's ​

"

DONNERSTAG

"
17/5/2019
Maxime Pascal is taking on Stockhausen's monumental DONNERSTAG on 21 and 22 May at Southbank Centre. This unique performance includes Pascal's own ensemble Le Balcon, working hand in hand with London Sinfonietta, 34 years after its London premiere at Royal Opera House.
Described by Stockhausen as an ​"eternal spiral because there is neither end nor beginning to the week", Donnerstag aus Licht is the first piece composed out of the seven-part Licht cycle, which took 26 years to develop and explores the story of mankind, with each opera named after a day of the week.
After an incredibly successful performance at Paris' Opéra Comique in November 2018, Maxime Pascal and Le Balcon set sail to the UK before flying back to Paris to launch their gigantic 7‑season plan of putting together the whole Licht cycle at Paris Philharmonie.
The 2nd opus of this biblical adventure, Samstag, will take place on 28 and 29 June 2019 and Montag will be staged the following year.
Le Balcon musicians, whose repertoire ranges from classical to contemporary music, aim to diminish the boundaries between artists and audience through their performances.
Ariane Levy-Künstler
Associate Director, Artist Management