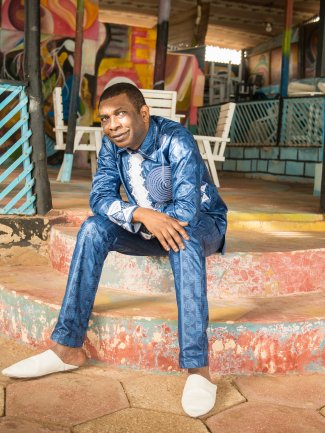 Youssou NDour tours Europe
9/8/2018
Senegalese cultural icon YOUSSOU NDOUR and his group Le Super Étoile de Dakar embarks on a European tour, including Hamburg (27 August), Reykjavik (28 August), Birmingham (30 August), and BBC Proms (31 August).
The tour begins in Hamburg's Elbphilharmonie with a programme of Youssou's most recognisable songs such as 7 Seconds and New Africa and spotlights Youssou's characteristic soaring vocals and the smooth instrumental colours brought to life by Le Super Étoile de Dakar. This programme will also be shown at Birmingham's Symphony Hall and Harpa Hall Reykjavik.
Youssou makes his Proms debut in a special late-night, largely acoustic appearance. This Prom will be broadcast on BBC Four on 7 September.
For over 40 years Youssou has been thrilling audiences around the world with an eclectic mix of Cuban rumba, hip hop, jazz, soul and music of the West African griot tradition. In addition to his prodigious performing career – which has embraced more than 30 albums and a Grammy Award – he has also played a political role, having campaigned for the release of Nelson Mandela, performed at concerts for Amnesty International and served as a UNICEF Goodwill Ambassador.
Rafi Gokay Wol
Director & Head of Arts Partnerships & Tours