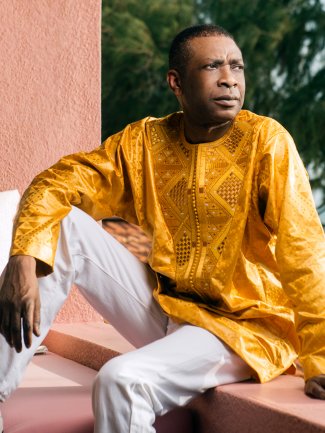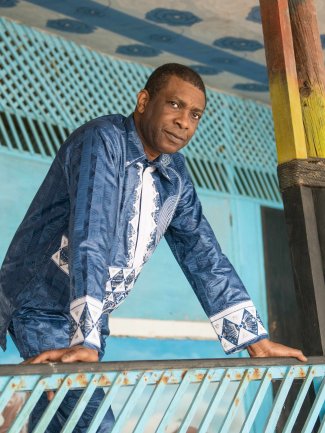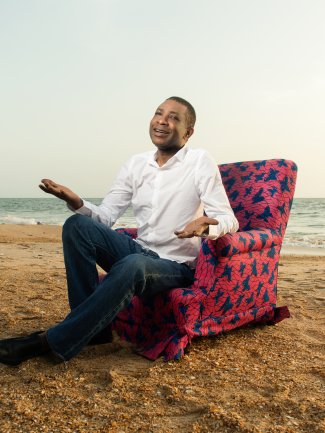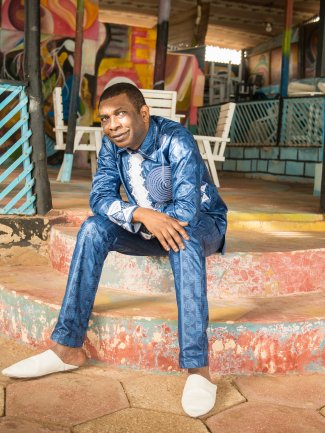 Rafi Gokay Wol
Director & Head of Arts Partnerships & Tours
"One of the world's greatest singers"

The New York Times
YOUSSOU NDOUR's bedrock in Senegalese music and storytelling remains the hallmark of his artistic personality.
In October 1959, YOUSSOU NDOUR was born a traditional ​'Griot' singer. After two years in street theatre his career truly began in 1972, age just thirteen. After the passing of Papa Samba Diop, known as Mba — leader of the Star Band in Dakar, Youssou sang a song he composed onstage as a tribute to him to great acclaim.
In 1981 after leaving the Etoiles group in Dakar, Youssou founded the orchestra Super Etoile. 1984 saw its Parisian debuts during Africa Fête, the African cultural festival set up by Mamadou Konté from Mali, featuring in the great pan-African dances and events organised at the Bercy Omnisports stadium in Paris by its leader.
After meeting Peter Gabriel in 1984, YOUSSOU NDOUR joined Band Aid for Ethiopia; in 1988 he sang at Wembley Stadium to celebrate the freedom of Nelson Mandela, and then alongside Sting, Tracy Chapman and Bruce Springsteen for Amnesty International.
He became known worldwide thanks to the song 7 Seconds, a duet with Neneh Cherry (released in 1994 on the album ​'Wommat', which also featured his cover of Bob Dylan's ​'Chimes of Freedom'). He has also recorded ​'Voices of the Heart of Africa' with Yandé Codou Sène in the pure Senegalese Griot tradition, and ​'Set', one of his most acclaimed albums.
In 2003 he celebrated his newfound Sufism, with the release of the album ​'Egypt', recorded in Cairo with an Egyptian orchestra conducted by Fati Salama. Two years later in 2005, the album won a Grammy Award.
In Africa Rekk! (Africa and that's final!): YOUSSOU NDOUR wants the world to stop haggling over the wealth of Africa, a continent where Senegal plays a leading role. Six years after the reggae campaign and his Bob Marley cover on the Dakar-Kingston album, the Prince of the Medina of Dakar has been back in the recording studio. While he was serving as Minister of Culture and then Tourism in the government of President Macky Sall (elected in 2012), he put his artistic activities on hold, but his current status as ​'Minister Advisor to the President' has given him more leeway.
YOUSSOU NDOUR remains a revered figure in his country and in the ever-growing Senegalese Diaspora.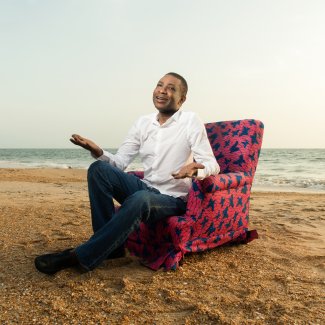 "When N'Dour sings, the effect is both sweetly familiar and startling; his powerfully emotive tones echo his griot heritage, but they also seal his modern status as the king of African pop"
(The Guardian, September 2018)
"His infectious joy of singing got the audience on its feet whilst his band of guitarists, drummers, keyboard-players and backing singers dance-hopped along."
(ClassicalSource, September 2018)
"The 14-strong Le Super Étoile interweaved compulsive rustling rhythms through a patchwork of precise percussion."
(The Financial Times, September 2018)
"Youssou Ndour is the King…Narrowly, of Senegal and maybe Paris, too, or at least of the Senegalese pop music that spread from Dakar to Paris and long since to the world. More broadly, of the entire genre of world music (to use a Western term that by this late date has a slight aura of imperialist condescension: to the Senegalese, after all, Beethoven is part of ​"world music".
(New York Times, 2003*)
"And that is why Mr. N'Dour's wonderful CD from Nonesuch, ​"Nothing's in Vain" ("Coono du Réér"), is so fascinating. Because its balancing of internationalized pop music and indigenous roots, of recording-studio calculation and concertizing spontaneity, point to a future (or highlight an already flourishing present) in which the best world music has become about the best pop music in the world."
(The New York Times, 2003)
Rafi Gokay Wol
Director & Head of Arts Partnerships & Tours