National Youth Orchestra Canada tour Germany and Scotland
5/7/2018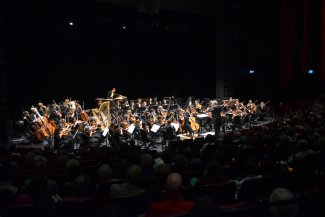 The National Youth Orchestra of Canada embarks on a three concert tour of Germany and Scotland, performing three varied programmes. This tour is part of the Orchestra's 8 – city Migrations 2018 TD Tour, and marks the first trip to Germany and Scotland in many decades.
For the opening concert on 8 August the Orchestra perform for the first time at the Berlin Konzerthaus as part of their Young Euro Classic series. The repertoire comprises Gershwin's Catfish Row: Symphonic Suite from Porgy and Bess, Strauss' Concerto for Horn No.2, where they are joined by soloist Martin Mangrum, and Scriabin's The Poem of Ecstasy. The programme also includes the German premiere of Estacio's Moontides, which takes its inspiration from the most extreme lunar tides on Earth. Moontides has been commissioned by KV 265, a non-profit organisation that communicates science through music and the visual arts to communities worldwide.
The second concert takes place on 10 August at the Staatstheater in Kassel, one of Germany's longest-running concert halls dating back to 1502. Instead of the Estacio, Copland's Appalachian Spring: Suite (for full orchestra) is performed alongside the other works.
The final concert takes place as part of the Edinburgh International Festival in Usher Hall on 12 August. In this concert the Estacio and Copland compositions make return appearances, and includes Vaughan Williams' Symphony No.3 where they are joined by mezzo-soprano Marjorie Maltais.
HarrisonParrott is delighted to manage the tours for Germany and Scotland.