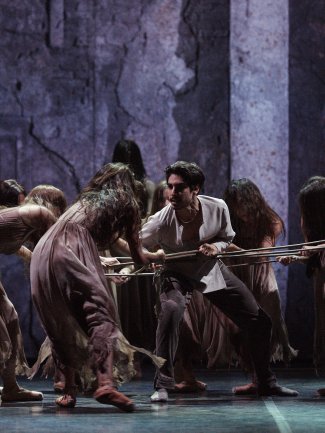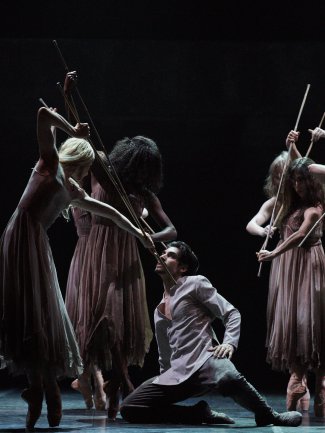 English National Ballet takes Akram Khan's ​

'

Giselle' to Hong Kong
21/6/2018
"A beautiful and intelligent remaking of the beloved classic"

(New York Times)
Following its sensational 2016 world premiere, Akram Khan's Giselle is performed with English National Ballet in Hong Kong, China for the first time from 28 – 30 June at the Grand Theatre, Hong Kong Cultural Centre.
One of the greatest romantic ballets of all time, Giselle is the first full length ballet choreographed by Akram Khan.
The classic story of love, betrayal and redemption has been reimagined in this stunning new version, with sets and costumes by Academy-Award winning designer Tim Yip (Crouching Tiger Hidden Dragon), in an ​"ominous, gothic" (The Observer) adaptation of Adolphe Adam's original score by composer Vincenzo Lamagna and performed by Hong Kong Sinfonietta under Gavin Sutherland and Gerry Cornelius, dramaturgy from Ruth Little and lighting design from Tony Award-winner Mark Henderson.
About Khan's Giselle, Ruth Little comments:
"Akram Khan's Giselle is a work of memory and testimony; a revision of the classic narrative ballet through the lens of globalisation and its imbalance of wealth, power and labour. It takes the narrative structure of the 19th century original – a Romantic tale of love, betrayal and forgiveness – and adapts it to the circumstances of a community of migrant workers (the ​'peasants' of the original version). The setting of the classical Giselle is medieval Germany; Khan's is an abstract version of our own times, transparent to the economic cycles of the past. The impulse to renew the story of Giselle is rooted in the precarious situation of migrants and refugees everywhere today – the marginalisation of people seeking security in places increasingly inaccessible to the behind literal and metaphorical walls. Akram Khan's Giselle is a work of rituals and cycles, suffered with the memory of movement, the violence of inequality, and the resilience, capability and desires of the human body."
In 2018 Khan was awarded ​"Best Classical Choreography" in the National Dance Awards for his choreography of Giselle with Lead Principal Alina Cojocaru receiving the Outstanding classical performance (female) award for her performance in the title role.
HarrisonParrott is delighted to manage this tour.
"It may well rank as a masterpiece of 21st century dance"

(The Mail On Sunday)