Patricia Kopatchinskaja named ​

'

artiste étoile' at the Lucerne Summer Festival

2017
4/8/2017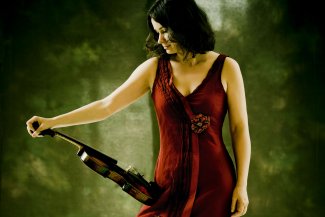 We are delighted that Patricia Kopatchinskaja has been selected as an ​'artiste étoile' at the Lucerne Festival this summer. An honour which is only bestowed to artists ​'who follow their own distinctive paths and who radically re-examine the very identity of classical music in fresh ways.'
Patricia is no stranger to Lucerne, having made her debut there in 2002 with Sibelius' Violin Concerto and the Wiener Philharmoniker conducted by Mariss Jansons. This year she will make eight appearances in total, both as player and artistic director of the world premiere of ​'Dies Irae', her second staged programme which follows the success of Bye Bye Beethoven, performed with the Mahler Chamber Orchestra in 2016. ​'Dies Irae' features a range of music from Gregorian chant, Early Baroque depictions of battle music and the ​"extraterrestrial" music of Giacinto Scelsi and is an aesthetic reflection of the world and time in which we currently live. An exciting 2017/18 season also lies ahead for Patricia, as we look forward to the work receiving its North American premiere at the Ojai Festival in June 2018 and where Patricia will also take up the post of Music Director this season.
Congratulations and Toi, Toi Toi!
Patricia's Lucerne performance schedule includes:
20 August — Heinz Holliger's concerto ​'Hommage à Louis Soutter'
Orchestra of the Lucerne Festival Academy; Heinz Holliger (Conductor)
23 August — Bartók's Concerto for Violin.
Mahler Chamber Orchestra; François-Xavier Roth (Conductor)
26 August – Ligeti's Violin Concerto.
Ensemble of the Lucerne Festival Academy; Matthias Pintscher (Conductor)
27 August – Enescu's Sonata for Violin, Kodaly's duo for Violin and Cello, Ravel's Tzigane- Concert Rhapsody for Violin and Piano.
Jay Campbell (Cello); Polina Leschenko (Piano)
2 September- Dies Irae – World Premiere
JACK Quartet; Ensemble of the Lucerne Festival Academy; Students of the Lucerne University of Music; Lani Tran-Duc (artistic design); Jonas Link (video); Jorge Sánchez-Chiong (sound design)
3 September – Round of Talks on the Theme of Identity
Nora Gomringer (poet); Harald Welzer (sociologist); Martin Meyer (moderator)
7 September – Late Night Show featuring Moritz Eggert
Moritz Eggert (host); Strotter Inst. manipulated turntables
Ariane Levy-Künstler
Associate Director, Artist Management