Gautier Capuçon tours China with Dvořák's Cello Concerto
16/6/2017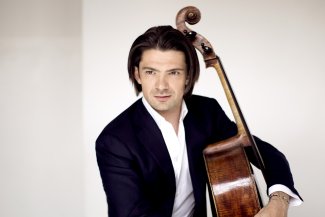 Gautier Capuçon embarks on a tour of China with conductor Yu Long to perform Dvořák's Cello Concerto. Spanning 10 days, Capuçon appears with Shanghai Symphony Orchestra (Shanghai Symphony Orchestra Hall, 24 June), Hangzhou Philharmonic Orchestra to open the Hangzhou International Music Festival (Hangzhou Grand Theatre, 26 June), China Philharmonic Orchestra (season closing concert, Poly Theatre, 30 June), and Guangzhou Symphony Orchestra (Guangzhou Xinghai Concert Hall, 2 July).
Capuçon's recording of Dvořák's Cello Concerto with Paavo Järvi and hr-Sinfonieorchester (Erato) has been hailed as ​"powerful, lustrous, beautifully focused, yet never forced" (Classic FM) and a ​"distinctive, characterful and intense performance" (Gramophone).
In addition to the concerto tour, Capuçon will travel to Seoul for a recital performance with Dong-Hyek Lim, performing sonatas by Brahms (No.1), Rachmaninov's Prelude, and Beethoven's variation on Bei Männern, welche Liebe fühlen (Seoul Arts Center, 27 June).
Teodora Masi
Associate Director, Artist Management