Vladimir Ashkenazy conducts Beethoven at the

LAC

Lugano Arte e Cultura inauguration celebrations
18/9/2015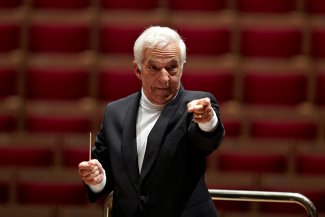 Vladimir Ashkenazy leads the Orchestra della Svizzera Italiana and Il Coro della Radiotelevisione Svizzera in three performances of Beethoven's Symphony No.9 (25 — 27 September) at the Grand Finale concerts of the inauguration celebrations for the LAC Lugano Arte e Cultura — marking its first season of theatre, classical music and exhibitions.
In cooperation with the Radiotelevisione della Svizzera Italiana, Ashkenazy is joined by Christiane Oelze, Anna Bonitatibus, Christoph Strehl and Olafur Sigurdarson.
Following these concerts, Ashkenazy and the OSI start an extensive cycle of Beethoven symphonies and concertos at the LAC featuring soloists such as Janine Jansen, Garrick Ohlsson, Yevgeny Kissin and Jean-Efflam Bavouzet.
Ashkenazy conducts Beethoven again in early 2016 when he returns to the Sydney Symphony Orchestra, where he was Principal Conductor and Artistic Adviser from 2009 – 2013, for a cycle of the composer's symphonies and concertos.