Vladimir and Vovka Ashkenazy tour Spain, Japan and Thailand
18/4/2016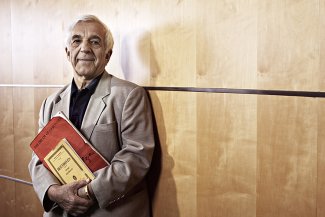 Vladimir and Vovka Ashkenazy embark upon a three-week tour of piano duo concerts across Spain, Japan and Thailand.
The tour starts in Girona on 24 April to coincide with the 10th anniversary of the Auditori de Girona. They then perform in Barcelona at the Palau de la Música Catalana before making their way to Asia for concerts in Yatsugatake (29 April), Tokorozawa (30), Osaka (1 May), Miyazaki (5) — as part of the Miyazaki Festival — Gifu (8), Tokyo (10) — Suntory Hall — Sapporo (11) and Kitakami (12). The final concert takes place in Bangkok (14).
The duo's recital programme includes Smetana's Vltava, Ravel's Rapsodie espagnole pour deux pianos, Rachmaninov's Symphonic Dances and Glinka's Valse fantasie arranged by Sergei Liapunov and Vovka Ashkenazy.
The tour also includes an orchestra concert with the Miyazaki Festival Orchestra conducted by Vladimir Ashkenazy featuring Nobuyuki Tsujii as soloist in Rachmaninov's Piano Concerto No.2.
Nadja Saborova (maternity leave)