Allison Cook and Nathan Berg perform Bluebeard's Castle
5/2/2016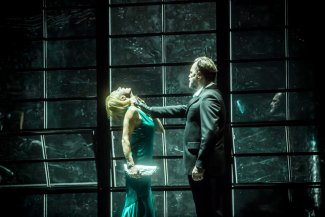 This week, Allison Cook and Nathan Berg join forces for Mariusz Treliński's production of Bluebeard's Castle at Teatr Wielki. Performances run from 14 February and are conducted by Bassem Akiki.
Making her debut in the role of Judith, Allison Cook returns to Warsaw following her ​"tour de force" (Opera Magazine) portrayal of the Duchess in Adès' Powder Her Face earlier this season, a role she has additionally performed in New York, and at La Monnaie. Looking further ahead, Allison will take on roles such as Miss Jessel (Turn of the Screw), and Strauss' Salome in the coming seasons, as well as the world premiere of Gerald Barry's Alice in Wonderland.
Making his house debut in Warsaw as Bluebeard, Nathan Berg continues his move into more dramatic repertoire with further performances this season including his debut as Vodnik (Rusalka) in Beijing and a return to Doktor (Wozzeck) with Radio Filharmonisch Orkest under Markus Stenz.