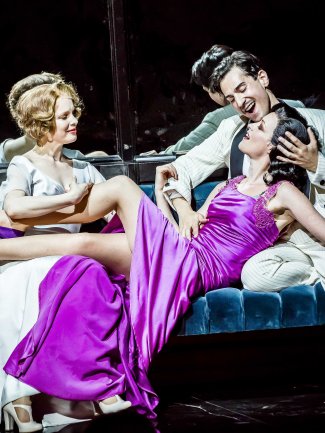 Allison Cook performs in Powder Her Face at Teatr Wielki
1/5/2015
Allison Cook performs as the Duchess in the Polish premiere of Powder Her Face at Teatr Wielki in Warsaw. Directed by Mariusz Treliński and conducted by Alejo Pérez, performances run from 9 – 19 May.
Allison has received great praise for her interpretations of this particular role in recent seasons. The New York Times described her as having ​"consummate insight and dignity through one of contemporary opera's most psychologically nuanced sequences" whilst Backtrack noted that she ​"propelled through a slew of musical and physical gymnastics while maintaining an unmatched expressiveness."
Allison will conclude her season with performances as Marquise de Merteuil in Francesconi's Quartett at Teatro Colòn under Brad Lubman (the role she created in the world premiere at La Scala) and will reprise the role of the Duchess at La Monnaie next season.
Clare Erskine (maternity leave)