Jörg Widmann

&

Lisa Batiashvili to serve as Creative Chair

&

Artist in Residence of Tonhalle-Orchester Zürich
15/9/2015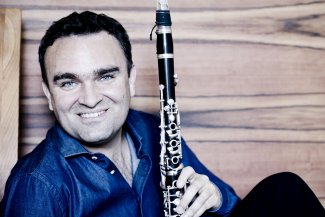 The 2015/16 season sees Jörg Widmann and Lisa Batiashvili serve as Creative Chair and Artist in Residence of the Tonhalle-Orchester Zürich. As well as performing at the orchestra's season opening concerts on 16 and 17 September, both artists will appear with them at numerous occasions throughout the year.
The season features a comprehensive overview of the orchestral and chamber music of Creative Chair Jörg Widmann, who will also appear as a clarinettist and conductor. The appointment culminates in three play/​direct performances of Mozart's Clarinet Concerto and Widmann's own Messe für grosses Orchester, and will also see the world premiere of his Trio for Viola, Clarinet and Piano.
As the orchestra's Artist in Residence, Lisa Batiashvili returns to Zürich in three separate programmes. She also joins the orchestra's European tour in spring 2016 and performs in a special chamber music programme marking the 100th anniversary of Henri Dutilleux.
The orchestra's season opening on 16 September, conducted by Music Director Lionel Bringuier, is broadcast live on Mezzo TV and will subsequently be made available on Radio SRF 2 Kultur. The programme features Widmann's Con brio, Brahms' Concerto for Violin and Cello played by Batiashvili and Gautier Capuçon, Widmann's Clarinet Concerto performed by the composer, and Scriabin's Poem of Ecstasy.