David Zinman returns to the New York Philharmonic
30/1/2015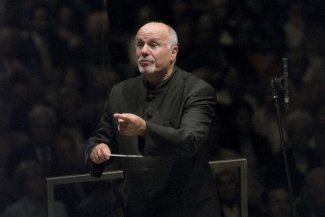 This week David Zinman continues his relationship with the New York Philharmonic Orchestra, conducting four concerts on 5, 6 and 7 February at the Avery Fisher Hall.
The three evening concerts open with Christopher Rouse's Iscariotand the orchestra is then joined by their Artist in Residence, Lisa Batiashvili, for Barber's Violin Concerto. The programme concludes with Rachmaninov's Symphony No.2. The Symphony is also performed at the matinee concert on 7 February alongside Dvořák's Piano Quintet.
Other international highlights this season include performances with Gewandhausorchester Leipzig, the London Philharmonic Orchestra, the NHK Symphony Orchestra and four concerts at the Pacific Music Festival in Sapporo, Japan. He also returns for concerts with the Tonhalle-Orchester Zürich, his first with the orchestra since stepping down as Music Director in summer 2014.