David Zinman named Distinguished Visiting Artist at the Eastman School of Music
2/11/2016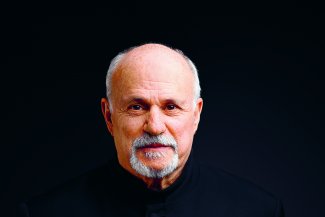 Conductor David Zinman has been appointed Distinguished Visiting Artist at the Eastman School of Music at the University of Rochester for two years.
During the two-year appointment, beginning in February 2017, Zinman will conduct masterclasses with graduate students, work with the school's Eastman Philharmonia and Eastman School Symphony Orchestra ensembles, and give presentations to students.
"We are thrilled to welcome David Zinman back to Rochester," said Jamal Rossi, the Joan and Martin Messinger Dean of the School. ​"His impact on the students, who will have the opportunity to interact with one of our country's most revered conductors, and on our Eastman community will be tremendous and inspiring."
"It is a great joy for me to return to Rochester, where I spent my early career as Music Director of the Rochester Philharmonic Orchestra," said Zinman. ​"I have great affection for Rochester, where I still have many friends and it will be a huge pleasure to work with the students of Eastman school. Teaching is not only one of my priorities, but I am passionate about teaching aspiring young students of conducting."
Read the full press release.