Canadian Brass embarks on a three week concert tour of Macau, Hong Kong and Japan
28/10/2014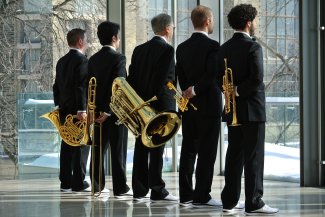 This autumn Canadian Brass embark on an extensive three week concert tour of Asia which includes concerts in Macau, Hong Kong and across Japan.
The tour kicks off with a performance at the Macau International Music Festival (30 October) and is followed by a concert at Hong Kong's Tsuen Wan Town Hall(31 October). At both of these concerts the group showcase the breadth of their repertoire, including selections from their new CD, ​'The Great Wall of China', which features new arrangements of a number of Chinese folk songs.
Canadian Brass then travel to Japan where they perform ten concertsacross the country. This is the group's first extensive tour of Japan for nine years and follows their successful residency at the Pacific Music Festival and a concert at Tokyo Metropolitan Theatre in 2013.
The tour of Japan begins on 1 November with a concert at the Toyota City Concert Hall. Further performances take place in Itami, Hyogo (2), Ueda, Nagano (3), Kodaira, Tokyo (9), Sumida, Tokyo (10), Komatsu, Ishikawa (11), Fukuyama, Hiroshima (13), Hirakata, Osaka (14), Oota, Tokyo (15) and the tour ends in Oita (16). Whist on tour the group also offer workshops at many of the cities where they perform and give masterclasses at three universities.