Arvo Volmer appointed Chief Conductor of Orchestra Haydn of Bolzano and Trento
26/3/2014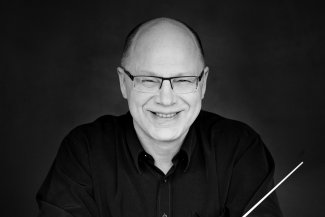 Arvo Volmer has been appointed Chief Conductor of the Fondazione Orchestra Haydn di Bolzano e Trento – known informally as Orchestra Haydn — from the 2014/15 season.
Orchestra Haydn has worked with conductors including Gustav Kuhn (Artistic Director 2003 – 14), Claudio Abbado and Riccardo Muti, and has given a number of world premieres including works by Dallapiccola, Nono, Berio and Donatoni. Its prolific recording catalogue includes a multi-award-winning disc of Rossini's La gazza ladra.
Talking about the appointment, the orchestra's Artistic Director Daniele Spini says: ​"We feel privileged to be able to work with this highly cultivated, brilliant and intelligent musician, with whom we will develop interesting programmes and the strategies and visions necessary to take the orchestra to the next level."
Stressing the emotional fulfillment, excitement and positive energy that music can give to players and audiences alike, Arvo Volmer said: ​"I feel I share a common ground in understanding this with the musicians of the Orchestra Haydn, and I am very hopeful that we can share with the audience the sense of being a part of this wonderful world of emotion and expression."
Arvo Volmer's recent engagements include a tour of South America with the NDR Sinfonieorchester, and concerts with the MDR Sinfonieorchester (in Leipzig and at the Kurt Weill festival in Dessau) and Finnish Radio Symphony Orchestra. He was recently appointed Principal Guest Conductor of the Adelaide Symphony, having been the orchestra's Music Director for ten years. Later this month he conducts the St Petersburg Philharmonic Orchestra in a programme of Mozart and Sibelius.
The orchestra and Volmer's first project together will be performances of Beethoven's Symphony No.9 in October. The partnership will also give two concerts in Milan in March 2015, as guests of Orchestra laVerdi.