Budapest Festival Orchestra and Iván Fischer appear at Athens' Megaron
22/10/2013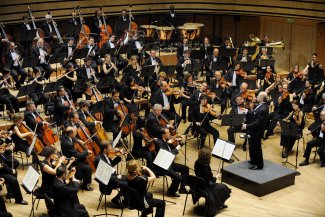 The Budapest Festival Orchestra and Iván Fischer traveled to Athens for a concert at the Megaron on 31 October.
The programme featured Beethoven's Piano Concerto No.4 with soloist Maria João Pires, and Dvořák's Symphony No.8. The concert, which was the orchestra's first return to the venue for over three years, opened with Sándor Veress' Threnos in memoriam Béla Bartók.
The engagement marked the continuation of a long-standing collaboration between the orchestra and HarrisonParrott, which over many years has included visits to the BBC Proms, Edinburgh International Festival, to US and Canadian summer festivals and tours to South America — including the orchestra and Fischer's debut tour to the continent in 2003.