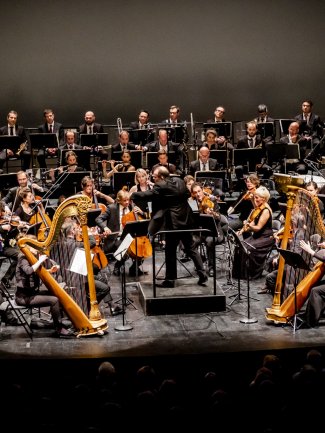 Rafi Gokay Wol
Director & Head of Creative Partnerships & Tours
Formed in the summer of 2003 by François-Xavier Roth, Les Siècles comprises outstanding young players pooled from the very finest French ensembles. Roth's founding ambition was for his orchestra to offer a new approach, not only to repertoire but also to the nature of the concert form.
With a vast period-instrument collection at its disposal, spanning the baroque, classical, romantic and modern eras, the orchestra's repertoire is notably wide in range. Les Siècles is one of the only orchestras which plays each piece of the repertoire on the appropriate period instruments. Its flexible and historically informed work delivers a unique strand of creative programming.
François-Xavier Roth and the musicians of Les Siècles have made a distinctive mark at home and abroad, presenting an orchestra for the 21st century. Its global profile has been magnified in recent seasons. Les Siècles are also in residency in the Aisne department,in Hauts-de-France region, associated artist at La Cité de la Musique de Soissons and give regularly concerts in Paris (Philharmonie, Opéra-Comique), Sénart, Nîmes, Amiens, Caen, Royaumont, La Côte-Saint-André, Aix-en-Provence and in other places as London (BBC Proms, Royal Festival Hall), Amsterdam (Concertgebouw), Berlin (Konzerthaus), Bremen, Bruxelles (Klara Festival), Bucarest (Enescu Festival), Wiesbaden, Köln, Luxembourg, Tokyo, Essen.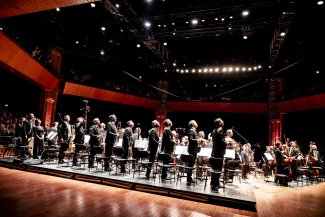 Their recordings of the three Stravinsky's ballets (L'Oiseau de Feu, Petrouchka et Le Sacre du Printemps) received the Jahrespreis 2015 der Deutschen Schallplatten Kritik and won the Edison Klassiek award in Holland. Their Debussy disc was elected Sunday Times Disc of the year and Editor's choice in the BBC Music Magazine and Gramophone. In march 2017, Les Siècles started to work with Harmonia Mundi and begin an integral of Ravel music. The two first recording (Daphnis & Chloé & Ma Mère l'oye) received many awards. In 2018, they win the Victoire de la Musique Classique in France with Sabine Devieilhe and Mirages album and the Gramophone Classical Music Award with Daphnis & Chloé. The Debussy disc released in December 2018 has been elected disc of the year on Presto Classical website.

The musicians of Les Siècles propose regularly several educational actions in schools, hospitals, retirement homes and prisons. The orchestra is partner of Jeune Symphonie de l'Aisne, Jeune Orchestre Européen Hector Berlioz and Demos (musical and social educational project) in Hauts-de-France and Île-de-France. The orchestra is one of the initiator of ​"Music in the hospital" project proposed in the pediatric haematology-oncology Trousseau Hospital's service in Paris and in Beauvais Hospital. He also created an educational residency in La Petite Bibliothèque Ronde de Clamart. Les Siècles are also the creator and the main feature of the TV show « Presto » which has been proposed to millions spectators on France 2 and edited in DVD with the support of CNDP.
Rafi Gokay Wol
Director & Head of Creative Partnerships & Tours