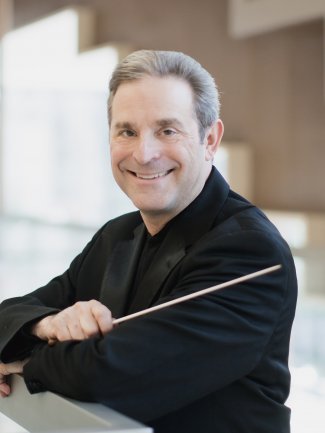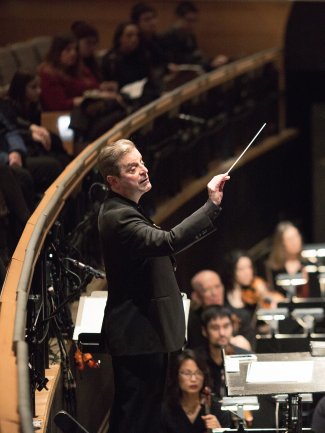 Henry St Clair
Senior Manager, Dance Department
Rafi Gokay Wol
Director & Head of Creative Partnerships & Tours
"David Briskin's fine conducting of the orchestra makes the tremendously powerful score a seamless piece with the dancing."

(Toronto Star, 2018)
Music Director: National Ballet of Canada
Music Director and Principal Conductor of The National Ballet of Canada since 2006, David Briskin is widely recognised as one of contemporary ballet's most accomplished conductors.
Following the completion of his studies in conducting, beginning at Indiana University School of Music followed by the University of Cincinnati College-Conservatory of Music, and concluding with a Master of Arts degree from The Aaron Copland School of Music at Queens College, City University of New York, Mr. Briskin began his career as a freelance conductor in New York. Early in his career, he served for seven years as Music Director of the 150-voice Masterwork Chorus and Orchestra, a tenure highlighted by annual performances of Handel's Messiah at Carnegie Hall. He also served as Artistic Coordinator of Education for The Chamber Music Society of Lincoln Center while leading youth and semi-professional orchestras. His first engagement with dance was with the Erick Hawkins Dance Company, where he conducted performances at the Joyce Theatre in New York, in Japan, and on tour throughout the US.
In 1993, he began a 13-year relationship with The Juilliard School as conductor for the Dance Division which led to opportunities to conduct for the companies of Martha Graham, Paul Taylor and José Limón. His first engagement as a guest conductor in classical ballet was with the Milwaukee Ballet. His second was with American Ballet Theatre, where he spent seven years working with such luminaries as Susan Jaffe, Julie Kent, Paloma Herrera , Jose Manuel Careño, Angel Corella, and Julio Bocca among many others. He conducted performances at the Metropolitan Opera, New York's City Center, and on tour, both in the US and abroad, working with a generation of ballet masters, mistresses and coaches including Freddie Franklin, Georgina Parkinson and Irina Kopolkova.
While with ABT, Mr. Briskin also guest conducted for the ballet companies of San Francisco, Houston, Joffrey, Alberta, and Les Grands Ballet Canadiens. His first appointment as Music Director was with Pittsburgh Ballet Theatre, where he served for three years, followed by a three year engagement with New York City Ballet as a seasonal guest conductor, conducting some 40 ballets at The New York State Theatre, Saratoga Springs and on tour in the US and Europe.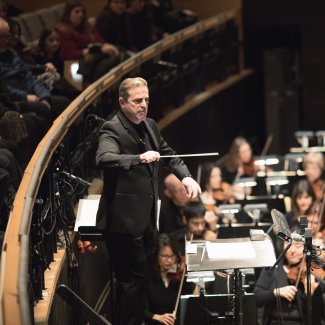 In 2001, Mr. Briskin was invited to guest conduct as part of The National Ballet of Canada's 50th anniversary season. Five years later, as she began her tenure as Artistic Director, Karen Kain appointed Mr. Briskin as the company's third Music Director in its history. During his tenure with NBC, Mr. Briskin has conducted for some of the world's leading choreographers, including the world premiere of Alexei Ratmansky's Romeo and Juliet, and three of John Neumeier's ballets, Nijinsky, Anna Karenina, and The Seagull. Two co-productions with The Royal Ballet, Covent Garden, led to invitations to conduct regularly in London, first with Christopher Wheeldon's and Joby Talbot's Alice's Adventures in Wonderland, followed by the world premiere of The Winter's Tale, which may be seen on DVD on Opus Arte. He remains a close collaborator with both Wheeldon and Talbot.

As Music Director of The National Ballet of Canada, Mr. Briskin has overseen an unprecedented rise in quality of The National Ballet of Canada Orchestra, which has resulted in regular critical and public acclaim. His commitment to the orchestra has led to the creation of ​'The Music Circle', a funding scheme which helps support the company's musical activities, including new music commissions, the engagement of guest artists and guest conductors, and most recently, the creation of a funded position to help mentor and develop young conductors entering the field. His repertoire includes some 30 full-length and more then 100 individual ballets.

Internationally, Mr. Briskin remains active as a frequent guest conductor, having appeared with the Royal Swedish Ballet, the Royal Danish Ballet, and Hamburg Ballet in recent seasons. He opened the 2022/23 season serving as Music Director for Nureyev Legend and Legacy at Theatre Royal Drury Lane in London, which may be seen on Marquee TV. He will make his first appearance later this season with Dutch National Ballet.

Outside of dance Mr. Briskin has appeared with orchestras and opera companies including the Pittsburgh, Detroit, Baltimore, Cincinnati Pops, Fort Worth, Indianapolis, Windsor, Bourgas (Bulgaria) UNAM (Mexico), Costa Rica, and Shanghai Symphony Orchestras, as well as Calgary Opera, Manitoba Opera, Opera Carolina, Lake George Opera and Sarasota Opera, among others.

Over the years he has been extremely active in arts education. In 2008, Mr. Briskin was appointed Assistant Professor at the University of Toronto, Faculty of Music where he taught graduate conducting and served as Director of Orchestral Activities and Conductor of the University of Toronto Symphony Orchestra until 2015. He also has served on the faculties of the Mannes College of Music, the 92nd Street Y, and Queens College, City University of New York, as well as the International Vocal Arts Institute, under the direction of Joan Dornemann

In Canada, he has served on juries for the Ontario Arts Council, the Women's Musical Club of Toronto and the Sir Ernest MacMillan Memorial Foundation. He has been a strong advocate for musical life in Toronto speaking publicly on behalf of the National Ballet of Canada, Luminato Festival and the University of Toronto, among others.
"The composer Joby Talbot produces a beautiful score bubbling with exotic percussive spices, dancey rhythms, dramatic flourishes and full blooded melodies under the fabulous David Briskin conducting."
(The Times, London, 2022)
"Kudos must also go to conductor David Briskin and the National Ballet Orchestra. The music soared to glorious heights in the famous themes from Rimskij-Korsakov's Schéhérazade, while in complete contrast, the orchestra perfectly captured the edgy modernism of excerpts from the works of Shostakovich."
(The Globe and Mail, 2020)
"And this being the National Ballet of Canada, it is, as usual, borne aloft by the seemingly flawless efforts of the NBOC Orchestra, masterfully conducted once again, by David Briskin."
Alice's Adventures in Wonderland, The Toronto Sun, 2012
Henry St Clair
Senior Manager, Dance Department
Rafi Gokay Wol
Director & Head of Creative Partnerships & Tours