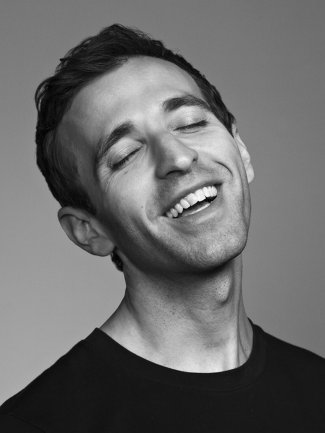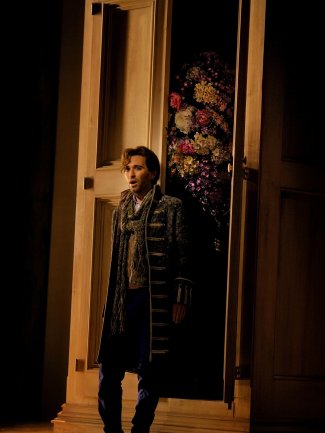 Anthony Roth Costanzo
Countertenor
Shirley Thomson
Director & Head of VOICE
Peppie Johnson
Artist Coordinator
"Anthony Roth Costanzo is the super-cool, multi-talented and dauntlessly adventurous American countertenor"

The Telegraph, September 2022
Countertenor Anthony Roth Costanzo was named Musical America's 2019 Vocalist of the Year, was honoured with both the Beverly Sills Award from The Metropolitan Opera and the Opera News Award in 2020 and was presented with Teatro Real's Award for outstanding artistic contribution to their 2022/23 season, for his portrayal of Armindo in Handel's Partenope. Costanzo first came to international attention when he took first prize at Operalia in 2010, developing into one of the most versatile, innovative, and creative artists of his time.
A uniquely engaging performer, early debuts took Costanzo to Glyndebourne Festival as Eustazio (Rinaldo), Houston Grand Opera as Giulio Cesare, Teatro Real Madrid as Apollo (Death in Venice), San Francisco Opera as Armindo (Partenope), English National Opera as Ixbalanqué (Indian Queen) and Finnish National Opera as Spirit/​Angel in Saariaho's Only the Sound Remains. At The Metropolitan Opera, he appeared as Ferdinand and Prospero in the world premiere of The Enchanted Island, Prince Orlofsky (Die Fledermaus), Unulfo (Rodelinda), and debuted at Santa Fe Opera in the 2021 world premiere of John Corigliano's Lord of Cries.
Anthony's spellbinding interpretation of Philip Glass' Akhnaten in Phelim McDermott's unforgettable production seen at The Metropolitan Opera, Los Angeles Opera and English National Opera has earned him universal acclaim for his ​"touchingly vulnerable portrayal" (The Telegraph) and won him the 2022 Grammy for Best Opera Recording.
As part of his 2023/24 season commitments, Costanzo returns to Teatro Real as Medoro in Claus Guth's production of Orlando with conductor Ivor Bolton, debuts at Opéra National de Paris as Francisco in a new staging by Calixto Bieito of Adès' The Exterminating Angel, conducted by the composer, sings the title role in Glück's Orfeo ed Euridice under Christian Curnyn at the Metropolitan Opera and ends the season in the world premiere of Gregory Spears' and Tracy K Smith's The Righteous at Santa Fe Opera.

On the concert stage in the current season, Anthony makes his debut at Wigmore Hall in a curated programme of Mozart, Rameau and Gluck with La Nuova Musica and David Bates, and sings John Adams' El Niño in a collaboration between Cincinatti Symphony Orchestra and American Modern Opera Company. Previous appearances on the concert platform include Ligeti's Le Grand Macabreunder Sir Simon Rattle with both Berliner Philharmoniker and London Symphony Orchestra, and with Alan Gilbert conducting NDR Elbphilharmonie and New York Philharmonic Orchestra. With The Cleveland Orchestra he has performed Carmina Burana and Bernstein's Chichester Psalms, and is a regular soloist in Handel's Messiah, most recently at Carnegie Hall. As Artist-in-Residence with New York Philharmonic Orchestra in the 2021/22 season, Costanzo curated and performed in a series of special concerts with Jaap van Zweden and other collaborators as part of a two-week festival entitled ​'Authentic Selves: The Beauty Within'.

An exclusive recording artist for Decca Gold, Anthony Roth Costanzo's debut album Glass Handel was Grammy-nominated and was presented in a multimedia, immersive run of performances at Opera Philhadelphia, New York's St John the Divine, with ENO Orchestra and conductor Karen Kamensek at London's Printworks as part of the 2022 BBC Proms, and at Bayer Kultur stARTfestival in Leverkusen. His second release Only an Octave Apart, a collaboration with Justin Vivian Bond, was recently presented as a live musical fantasia at St Ann's New York, Spoleto USA and at Wilton's Music Hall in London, receiving widespread critical acclaim.

A uniquely collaborative artist, Costanzo has been instrumental in the creation of numerous special projects including The Tales of Genji, performed to sold-out houses in Kyoto, combining traditional Kabuki, Noh actors, dancers and western music and, as a member of their Artistic Council, two critically-acclaimed shows at New York's National Sawdust: Aci, Galatea e Polifemo and Matthew Aucoin's Orphic Moments.

During the pandemic, he conceived and produced New York Philharmonic Orchestra's Bandwagon project, an initiative which spontaneously took its musicians to every borough of New York City ensuring classical music continued to be heard while theatres were closed.
Gallery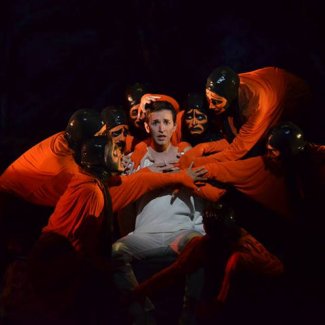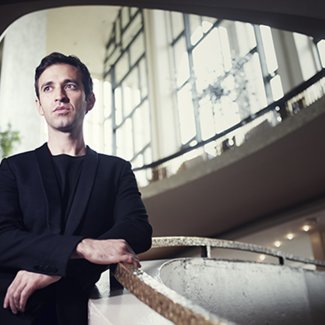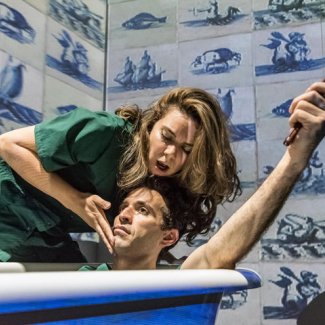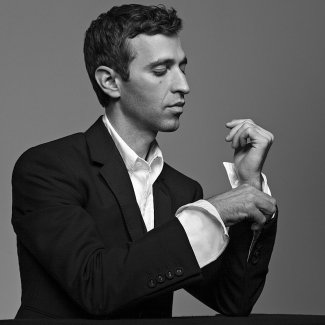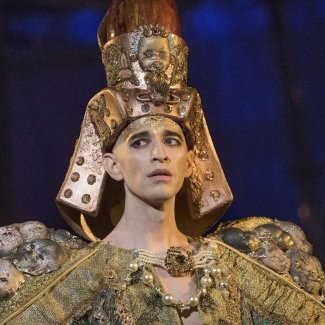 "Anthony Roth Costanzo performed the overwhelming part of the title role with great virtuosity and great dramatic intensity. This American countertenor has a great vocal and scenic magnetism which makes an accomplished actor to embody the immateriality of this legendary character."
concerto.net, July 2023
"Anthony Roth Costanzo brought his customary musical intelligence and consistently mesmerizing stage presence to the title role. He utterly convinced as a loose-limbed little boy longing to escape the confines of his hospital room, then seamlessly changed his bearing to suggest Rinaldo's stature as a great warrior. He shaped endlessly flowing vocal lines with finesse and characterful choices, as when he used the melismatic runs of ​"Venti, turbini" to suggest a windswept ship at sea."
Bachtrack, July 2023
"the countertenor Anthony Roth Costanzo has been a fixture of this production since 2016, and his Akhnaten remains a stunning achievement of total bodily control and razor-sharp vocalism."
Opera magazine, May 2023
"Roth Costanzo does appear to be one with Akhnaten. He seems to be one with Glass's requirements, too, including the slowed-down bodily movements one sees. He sings with perfect, blanched tone, and delivers incredible vocal strength at times. Dramatically, he projects the almost alien strangeness of the character of Akhnaten to perfection. It is unsettling, and so it should be."
Seen and Heard, April 2023
"Anthony Roth Costanzo has played Akhnaten in every outing of this production in both London and New York and he embodies the role so completely that it is hard to picture anyone else ever playing it. The brilliance of his countertenor sees it, paradoxically perhaps, combine total purity with real edge to produce a sound of spellbinding clarity. Equally impressive is the manner in which he thoroughly commands the stage through stillness and slow movements so that he really does feel otherworldly and god-like, even though it remains as easy to appreciate his vulnerability as his power."
Opera Online, April 2023
"The vocal writing demands considerable range and dexterity. In the title role Anthony Roth Costanzo deployed his full arsenal (precise attack, melisma, verbal nuance, telling descents into baritone turf) plus surprising vocal heft in creating a scarily implacable amoral force."
Opera magazine, March 2023
"Anthony Roth Costanzo is the super-cool, multi-talented and dauntlessly adventurous American countertenor…Costanzo delivered exquisitely melancholy Handel arias such as Pena tiranna, Stille amare and Lascia ch'io pianga [and] was in excellent voice, his singing sturdily articulated and secure"
The Telegraph, September 2022
"The fine American countertenor Anthony Roth Costanzo delivered ardent or anguished arias – one of Philip Glass' specially written for this Prom"
The Times, September 2022
"Anthony Roth Costanzo sings Armindo with mastery and perfect technical control."
(Giornale della musica, Nov 2021)
"Anthony Roth Costanzo was outstanding as Armindo, singing with gusto and offering a display of physical agility throughout the performance, crowned with a brilliant rendition of his Act III aria."
(Seen and Heard, Nov 2021)
"Anthony Roth Costanzo took the concept of acrobatics further, not only with regard to the vocal pyrotechnics required [as Armindo], but also because Alden's staging requires him to tap, dance flamenco, and sing upside down"
(El Confidencial, Nov 2021)
"In the role of the foolish lover Armindo, Anthony Roth Costanzo attracts the favours of the Madrid public and reaps the rewards of a staging which offers him the opportunity to indulge in a thousand antics…his countertenor timbre is full-bodied and ideally suited to the Handelian style, the rigour of which he has already mastered."
(Première Loge, Nov 2021)
"Anthony Roth Costanzo is outstanding in the title-role [of Akhnaten], as he was in London and Los Angeles. Waxed, buffed and daubed in gold, he commands the stage. His golden countertenor has a gleaming top"
(Gramophone Magazine, November 2021)
"Dionysus was written for the specific and spectacular gifts of Anthony Roth Costanzo, making his Santa Fe Opera debut. Mr Costanzo does not disappoint, deploying his warm countertenor with assurance and purpose…Anthony's appealing instrument almost works against the nefarious intent of the character, but he is such an accomplished stage creature that he compensates with barely controlled menace."
(Opera Today, July 2021)
"Anthony Roth Costanzo, as Dionysus, applied the same steely sensuousness"
(The New Yorker, July 2021)
"Superstar Anthony Roth Costanzo, with his flamboyant stage presence, captures the mysterious and supernatural nature of the demigod, capable of charming and later destroying. This type of androgynous voice could not be better suited for the role."
(ConcertoNet, July 2021)
"The role of Dionysus was written specifically for Costanzo and he supplied just the right degree of androgynous otherworldliness for the part, never venturing into caricature. His voice, secure and powerful, cast a spell on the room."
(Classical Voice North America, July 2021)
"Of course it helps when the countertenor is Anthony Roth Costanzo. [His voice] filled the huge Met theatre admirably and eerily."
(Opera Mag, Jan 2020)
"Mr Costanzo sings the opening phrases of a hymn of acceptance with gleaming high notes and melting sound the cut through the orchestra with surprising ease…Mr Costanzo sings with exceptional tenderness while bringing out inflections in the music that hint at the character's isolation and insecurity."
(Anthony Tommasini, New York Times, Nov 2019)
"Anthony Roth Costanzo was a perfect choice, as he is a distinctive artist with a flair for self-presentation and a firm, light voice, which projects power without ever letting the audience forget the underlying vulnerability of his own naked body beneath the robes."
(Anne Midgette, Washington Post, Nov 2019)
"Anthony Roth Costanzo repeats his eerie, evocative countertenor singing in the title role"
(FT, Nov 2019)
"Costanzo has a remarkable control over dynamics, more-so than most countertenors, and this makes him a more dramatic singer than others. Listening to the soft, sweet ​"Lascia ch'io pianga", the words sewn together with an impeccable legato, one is touched by sadness…The vengeance aria ​"Vivi, tiranno" from Rodelinda is delivered with passion and rage. Cascades of perfectly placed notes, flawless diction, trills and endless breath turn this into the showpiece it ought to be."
(Classics Today, April 2019)
"Costanzo is a commanding vocal and stage presence. His Act 2 Hymn to the Sun was unforgettable – exposed, sotto voce but focused and utterly compelling; a man alone with his god."
(Opera Magazine, April 2019)
"Very few singers can bring such high-calibre acting to a concert appearance as does the American countertenor…Costanzo conveyed overwhelming despair and longing in Tolomeo's gut-wrenching poison aria, ​"Stille amare." In ​"Vivi, tiranno" from Handel's Rodelinda, Costanzo's runs built on one another to tell a story that mirrored the exasperated drama of the text"
(Opera News, March 2019)
"Anthony Roth Costanzo sings Akhnaten with a penetrating countertenor that can fill the theatre."
(Financial Times, Richard Fairman, February 2019)
"… as dignified and vulnerable in his robes of state as he is in his nakedness. His protracted death scene is weirdly moving."
(Rupert Christiansen, The Telegraph, February 2019)
"In the title role, the countertenor Anthony Roth Costanzo acts with fabulous control and sings with an otherworldly bareness of tone that captures the Pharoah's increasing remoteness from his warring nation."
(The Guardian, February 2019)
"Costanzo convinces us that the aria couldn't be sung any other way…The album is engaging from first note to last."
(Opera News, Critics Choice, January 2019)
"The Costanzo countertenor is remarkable for its purity, sweetness, its ethereal, rather disembodied sound, not to mention an exemplary capability for fioritura…This discis a pleasure and one of the best countertenor albums in recent memory."
(Opera Canada, January 2019)
"Anthony Roth Costanzo's sexless, disembodied countertenor is exactly right for the Voice of Apollo"
(George Hall , Opera Magazine, February 2019)
"With so much going on, one might have wondered where to look, except for the fact that Costanzo, with his charisma, sensitivity, plangent sound and communicative power, magnetized attention. He alone would have been more than enough, but it's unlikely that many audience members had any regrets about being treated to this excessive, ultimately joyous experience."
(Opera Magzine, December 2018)
"Anthony Roth Costanzo – his countertenor ample, generous and characterful – brings real vocal brilliance to the roll of Roane, the stage manager."
(Opera Magazine, September 2018)
"Star countertenor Anthony Roth Costanzo created a frightening and compelling Nero. He caressed notes and phrases with an exquisite attention that was never pretentious…hurling out vocal runs and high notes as breathtaking as they were chilling. His lithe presence and catlike grace endowed Nero with even more menace."
(Cincinnati City Beat, June 2018)
"Anthony Roth Costanzo's portrayal of Nero, the tyrannical emperor of Rome, was searing."
(Cincinnati Business Courier, June 2018)
Anthony Roth Costanzo, making his Florida Grand Opera debut as Orfeo, scored a triumph with his strong, sustained singing, and some hauntingly beautiful piannissimi in ​'Che faro senza Euridice.' Blessed with natural acting abilities, and using lithe movements, he achieved a complete characterization."
(Opera, August 2018)
"In a star turn, countertenor Anthony Roth Costanzo dominated the stage, giving a memorable vocal and dramatic performance as Orfeo…his voice is large and voluptuous. Costanzo's trills and ornaments were assayed with spot-on accuracy in a voice that is superbly controlled"
(South Florida Classical Review, March 2018)
"As the Boy and First Angel, the countertenor Anthony Roth Costanzo adroitly navigates the luminous and piercing, the gentle and chilly sides of his two-sided character."
(Zachary Woolfe, New York Times, February 2018)
"Anthony Roth Costanzo cut the air with his first, unnerving note. He gave his sound cottony softness for intimate moments, but brought back its thrilling steel for dramatic crises."
(Bachtrack, February 2018)
"Agile and athletic, Costanzo fills the Resilience Theater with a commanding Caesar, able to blaze through Handel's fiendish coloratura with breath to spare, then quieting the house with subdued ardour when wooing his Cleopatra."
(Houston Press, October 2017)
"Leading the countertenor charge was the handsome, charismatic Anthony Roth Costanzo, who dug fearlessly into Caesar's wide dramatic and musical range. His pointed, clear-toned voice was haunting in his Act 3 lament, then thrilling as he dispatched slithery melismas with abandon in ​'Quel torrent, che cade dal monte'
(Houston Chronicle, October 2017)
"as usual, Costanzo was extraordinary. He sang with plush yet virile sound while merging into his character, holding back nothing."
(Anthony Tommasini, New York Times, July 2017)
"Costanzo's voice is still very much in its prime, but since the time when he first dazzled audiences, at The Met in 2011, it has acquired a touch of grit in its lower reaches, and a bit of a wild edge on top."
( The New Yorker, July 2017)
"Anthony Roth Costanzo put his penetrating countertenor and astringent diction to find use as the petulant Prince Go-Go"
( Classical Source, January 2017)
"Anthony Roth Costanzo gives Prince Go-Go luminous pathos"
(The Arts Desk, January 2017)
"Anthony Roth Costanzo stood out as Prince Go-Go as his countertenor displayed exceptional style and precision."
(Music OMH, January 2017)
"Costanzo captures perfectly the other-worldliness and sexual ambivalence of Akhnaten."
(San Francisco Classical Voice, November 2016)
"Anthony Roth Costanzo shone with a beautiful, penetrating countertenor as Akhnaten"
(Classical Voice North America, November 2016)
"Dulcet-voiced countertenor Anthony Roth Costanzo sang Roane with bell-like tones"
(Opera Today, May 2016)
"Costanzo was vocally impressive and dramatically engaging as Scott's close chum Roane Heckle."
(Bachtrack, May 2016)
"Anthony Roth Costanzo was touchingly vulnerably"
(Telegraph, March 2016)
"Costanzo brings to the title role a voice that packs more raw power than any countertenor I can remember"
(Bachtrack, March 2016)
"As Akhnaten, Costanzo seemed perfect for the role, his voice not only blessed with the requisite strength, but also of a decidedly otherworldly quality."
(Seen & Heard, March 2016)
"Leading the cast is the American countertenor, Anthony Roth Costanzo, whose ethereal tones embody the doomed Akhnaten."
(The Stage, March 2016)
Shirley Thomson
Director & Head of VOICE
Peppie Johnson
Artist Coordinator