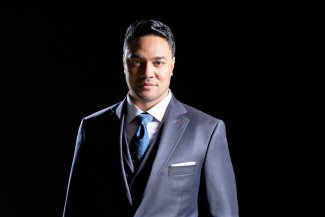 "The evening's great discovery: Samoan tenor Amitai Pati, who gave Don Ottavio a generous helping of passion and spine alongside his tender legato."

Boston Globe, July 2022
Following his ​"sensational" European debut as Nadir in Bizet's Les pêcheurs de perles at the Philharmonie de Paris, Samoan tenor Amitai Pati is earning momentum as a ​"superb" artist to watch. His 2022/23 season is marked by notable debuts in France. He adds Tamino in Die Zauberflöte with Opéra de Montpellier, conducted by Constantin Trinks, Alfredo in Pierre Rambert's new production of La Traviata for Théâtre du Capitole de Toulouse, conducted by Michele Spotti, and the title role in Gounod's Roméo et Juliette with Opéra de Rouen, under Pierre Dumoussaud.
Amitai Pati's international acclaim continues to grow, following last season's British operatic debut with English National Opera as Ferrando in Così fan tutte, conducted by Kerem Hasan, and his anticipated return to San Francisco Opera as Don Ottavio in Don Giovanni under the baton of Bertrand de Billy. He reprised Ottavio for a concert performance at the Tanglewood Music Festival, conducted by Andris Nelsons, and made his Seattle Opera debut as Nemorino in L'elisir d'amore, under Giampaolo Bisanti. He returns to the Tanglewood Music Festival this summer as Ferrando in Così fan tutte in a concert performance, under Andris Nelsons. In recent seasons, he made his debut as Jupiter and Apollo in Handel's Semele with New Zealand Opera, conducted by Peter Walls.
Alongside his opera credits, Amitai is a versatile concert artist. This season he brings Mozart Requiem to Wellington and Auckland with the New Zealand Symphony Orchestra under Gemma New, and later to the Philharmonie de Paris with Orchestre de Chambre de Paris, under Hervé Niquet. He sings Gounod's lesser-known oratorio, St. François d'Assise with the Insula Orchestra led by Laurence Equilbey in both Paris and Aix-en-Provence, before joining the Orchestra for subsequent performances, which also include Beethoven's Choral Fantasy, in Hong Kong. Further concert repertoire includes Orff's Carmina Burana and Bartók's Cantata Profana.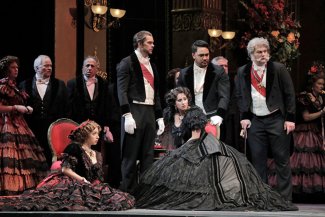 A former Adler Fellow with San Francisco Opera, Amitai Pati sang opposite Sondra Radvanovsky's Elizabeth I as Lord Cecil in Roberto Devereux, and sang in Jake Heggie's It's a Wonderful Life with Patrick Summers at the podium. He appears on the Pentatone recordings of Puccini's Madama Butterfly and La fanciulla del West, performed with Lawrence Foster and the Gulbenkian Orchestra.

Pati is a graduate of the Wales International Academy of Voice, studying under Dennis O'Neill. He was an invitee of the 2014 Young Singers Project in Salzburg, where he shared the stage with Elīna Garanča, Juan Diego Flórez, and Ludovic Tézier. He is an alumnus of the Merola Opera Program in San Francisco, where he sang his first principal role as Ferrando in Così fan tutte.

With his brother, fellow tenor Pene Pati, and their cousin, baritone Moses Mackey, Amitai Pati is part of SOL3 MIO, the New Zealand-based vocal trio currently signed to Universal Music.
Gallery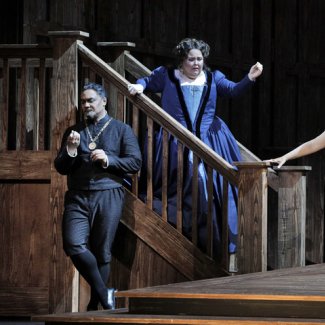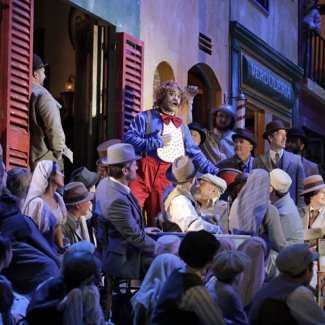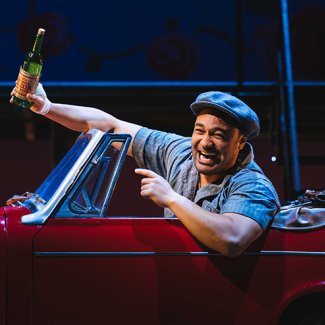 "Amitai Pati plays a juvenile Tamino with clear recitatives, high voice, rich in ringing harmonies, more and more touching as the evening progresses."
FORUM OPÉRA, JANUARY 2023
"As Prince Tamino, Amitai Pati not only makes his European debut (Nadir at the Philharmonie de Paris) but also makes a role debut here. Tenor with a silky high voice, velvety middle, his mastery of Mozartian phrasing is constant."
PREMIÈRE LOGE, JANUARY 2023
"Thanks primarily to Samoan tenor, Amitai Pati, whose warm, coffee-colored voice and impassioned delivery lent some backbone to his character. A flawless legato and command of dynamics were also on display in ​"Dalla sua pace"."
BACHTRACK, July 2022
"The evening's great discovery: Samoan tenor Amitai Pati, who gave Don Ottavio a generous helping of passion and spine alongside his tender legato."
BOSTON GLOBE, July 2022
"Tenor Amitai Pati, radiating goodness, sang with elegant line as the noble Don Ottavio."
BAY CITY NEWS, June 2022
"The able presence of Adler alumnus Amitai Pati made the fine, hapless Don Ottavio… aspirational casting."
OPERA TODAY, June 2022
"Jupiter intervened before the wedding could take place, opulently sung by the tenor Amitai Pati; lascivious and arrogant, he swept Semele away in a moment of carefree mutual lust."
Opera Magazine, January 2021
"Amitai Pati, the only non-French speaker, was not out of place in the evening's cast. Although he lacks an accent, he shares with the other singers perfectly intelligible diction that makes it unnecessary to read the surtitles."
Forum Opéra, March 2020
"Tenor Amitai Pati's light, lyrical tenor was as well suited to a familiar aria from Friedrich von Flotow's Martha as it was to a caressing a Franz Lehár love song"
San Francisco Classical Voice, December 2018
"young tenor Amitai Pati deserves special kudos for singing Beppo's serenade exquisitely"
Bachtrack, October 2018
"Without question, the standout artist of Pagliacci was Adler Fellow Amitai Pati, who sang Beppe's Serenade with the lightness, grace and beauty of the great Tito Schipa. Of everyone onstage, only Pati sounded absolutely right for his part"
San Francisco Classical Voice, September 2018
"New Zealand tenor Amitai Pati played Lord Cecil as smug and fully confident of his ability to align the Queen's interests with his own"
Opera Warhorses, September 2018
"In smaller roles, tenor Amitai Pati as Lord Cecil…contributed exceptional portrayals"
Seen and Heard, September 2018
"Other Adler Fellows made excellent smaller contributions: Amitai Pati's sunny sound as Lord Cecil contrasted with his character's gleeful evil"
San Franciscio Classical Voice, September
"Amitai Pati (Pene Pati's brother and fellow Adler Fellow) and Amina Edris (Pene Pati's wife and fellow Adler Fellow) sounded excellent as, respectively, Matteo Borsa and Countess Ceprano, making this premiere a successful family party"
San Francisco Classical Voice, June 2017