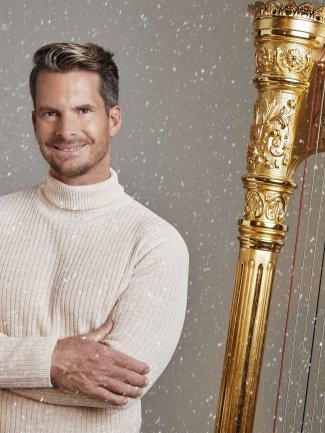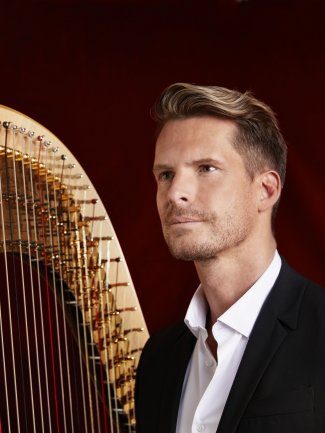 Christmas Harp
celestial harp sounds from Schubert to Tchaikovsky with Xavier de Maistre
October 2021
With its silvery and magical sonorities the harp is second to none in its ability to capture the festive and emotionally affecting mood of Christmas. And this remains true whether it is part of an orchestra, an accompanying instrument or a solo instrument – as it is with the eminent French harpist Xavier de Maistre. Christmas Harp is the title of his latest album, which features arrangements of famous Christmas carols as well as melodies by Schubert and Tchaikovsky. In addition, Xavier de Maistre has selected a number of fantasies and paraphrases of international carols by one of the twentieth century's greatest harpists, Carlos Salzedo.
All of the pieces that are included in this album bear the imprint of harpists and composers who have all been familiar with their instrument. Xavier de Maistre is himself responsible for the arrangement of the ​"Dance of the Sugar-Plum Fairy" from Tchaikovsky's Nutcracker Suite. ​"The Nutcracker always reminds me of my time with the Vienna Philharmonic in Vienna," says Xavier de Maistre. ​"I played in this ballet every year at Christmas and for me it remains the most wonderful example of Christmas music that I know, which is why I simply had to arrange these excerpts myself."
The arrangement of the ​"Waltz of the Flowers", conversely, is the work of the Russian harpist and composer Alexander Boldachev, as is that of the Carol of the Bells. The present arrangement of Schubert's world-famous Ave Maria was prepared by the Welsh harpist John Thomas, who was appointed harpist to Queen Victoria in 1872. Conte de Noël is an original piece by the French harp virtuoso Alphonse Hasselmans, who taught at the Conservatoire de Paris for almost thirty years. It dates from 1895. Among Hasselmans's pupils was the American, French-born harpist Carlos Salzedo, whose own compositions revolutionized the harp and turned it into a virtuoso instrument. It is his music that occupies much of the present album. Among the many Christmas carols in the Salzedo Collection are his own brief fantasies on Provençal, Catalan, Basque and Neapolitan carols that are relatively unknown in the German-speaking world as well as his paraphrases of traditional carols and folksongs such as We Three Kings of Orient Are, It Came Upon the Midnight Clear, Greensleeves and O Little Town of Bethlehem. The album culminates in his highly virtuosic concert variations on O Tannenbaum (O Christmas Tree), a work that still has the ability to thrill and delight us even when it is not Christmas.