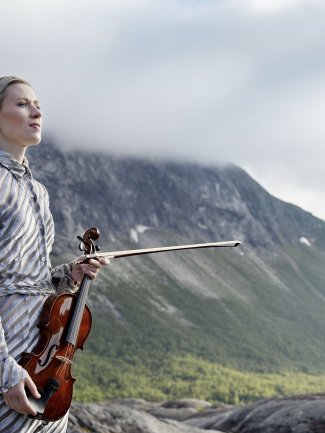 ©
Photo: © Gregor Hohenberg
Eldbjørg Hemsing releases Arctic on Sony Classical
30/1/2023
The 3 February marks the highly anticipated release of Eldbjørg Hemsing​'s unique concept album Arctic, a musical journey through a stunningly beautiful region and a celebration of a fragile and largely unexplored ecosystem threatened by climate change. It features newly composed music by composer stars such as Jacob Shea (The Blue Planet) from Bleeding fingers Music and Frode Fjellheim (Frozen) as well as new arrangements and melodies by Ola Gjeillo, James Newton Howard, Selim Palmgren, Einojuhani Rautavaara, Henning Sommerro, Ole Bull and Edvard Grieg.
Eldbjørg Hemsing comments on Arctic: ​"I wanted to combine unique and memorable melodies with a vivid orchestral sound that matches the grand panorama of the Arctic. The result is a highly diverse sort of film score for the concert hall, a soundtrack for a journey in your mind. The Arctic is often misrepresented as stark and uninhabitable wasteland. Yet it's a region of matchless beauty abounding in life, one that magically illustrates how all things cohere in fragile cycles. Arctic is a musical journey through this unique and endangered natural habitat. I want this project to show people how magnificent and deserving of protection this landscape is, and to point out the threat of climate change, which affects us all."
The center piece of the album is the 20-minute Arctic Suite by Film composer Jacob Shea. In the six sections of his suite, Shea depicts the unique natural phenomena of the Arctic, finding melodies for Frozen Worlds in winter, the Aurora in the polar night and the Sunrise in the morning of the polar day. He lends sound to whirling swarms of fish in Rush of Life and the poetic whistling of the Polar Winds before he ends with a melancholy glance at current environmental changes in Sea Ice Melting. Frode Fjellheim, a composer best known for his work on Frozen, hails from the Sámi, a population that has inhabited the European polar circle for centuries. His compositions Under the Arctic Moon and The Return of the Sun are inspired by joiks, the traditional songs of the Sámi. In The Return of the Sun he even sings one of these traditional melodies himself.
Arctic was produced by the British Grammy- and BAFTA-winning sound engineer Jonathan Allen and recorded together with Arctic Philharmonic Orchestra in Bodø, a Norwegian town within the Arctic Circle.
Karin Schwarz-Feyhl
Associate Director, Artist Management