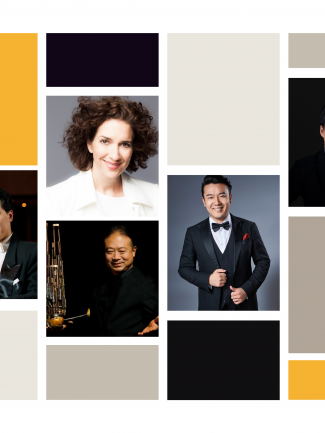 Image China returns to Germany at the Berliner Philharmonie
1/12/2022
HarrisonParrott Creative Partnerships & Tours partners with China Arts and Entertainment Group
'Image China', produced by China Arts & Entertainment Group Ltd, returns to Germany on 14 December 2022 to present a symphonic concert entitled ​'East/​West' at the Berliner Philharmonie. Featuring a mix of Chinese and Western sounds, the Berliner Symphoniker is joined by a world-class cast performing a range of famous Chinese and German works.
Under the direction of the Chinese conductor Lio Kuokman, top-class Chinese soloists who have established themselves in the international concert circuit, such as the violinist Ning Feng, the sheng virtuoso Wu Wei, the tenor Long Long, and the German star soprano Juliane Banse, make guest appearances.
The opening work of the concert is Opera Life, adapted from the Chinese traditional folk dance drama Opera Warriors which has been specially conceived as an overture to ​'Image China'. The piece uses elements of Chinese traditional dance styles, which draws on many performance forms in Chinese opera and the local opera of Shanxi Province, while combining modern aspects and perspectives to express human nature, feelings and reason. J. Offenbach's classic Barcarole will also be performed at the concert, bringing festive and celebratory wishes to audiences at the Philharmonie.
This concert is the sixteenth concert and final event in this series in 2022.
HarrisonParrott Creative Partnerships & Tours is delighted to partner on this special concert.
Sha Katsouris
Tours Management