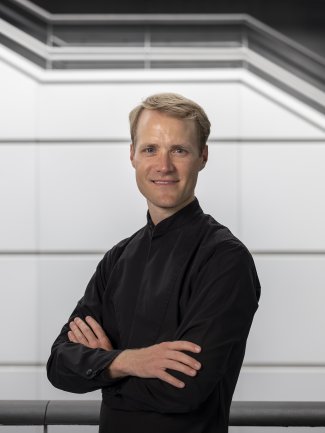 Conductor Christoph Koncz appointed Music Director of Orchestre Symphonique de Mulhouse
5/9/2022
HarrisonParrott is delighted to announce that Christoph Koncz has been appointed Music Director of the Orchestre symphonique de Mulhouse.

In collaboration with the Mayor of Mulhouse the Austrian conductor Christoph Koncz will take up his position as Music Director of the Orchestre symphonique de Mulhouse in September 2023 for an initial period of 3 years. He will take over from Jacques Lacombe who led the orchestra from 2018 to 2021 with great enthusiasm and professionalism, leaving behind him an orchestra with strong foundation and in constant development.

Christoph Koncz met the Orchestre symphonique de Mulhouse in June 2022 for their last symphony concert of the season and it was clear from the immediate chemistry, enthusiasm and artistic potential that this was to be a special relationship.

Speaking of his appointment Christoph said ​"the orchestra hosts remarkable musicians who play energetically and passionately. From the beginning, I've sensed an extraordinary connection between us which led to outstanding concerts. We are looking forward to sharing our enthusiasm and love of music with the public and enjoying the emotional power of music together in the upcoming years!"

Christoph wishes to build in-depth exchanges with the musicians in order to enhance their performances, and in accordance with the orchestra's strategy, he will take part in broadening the repertoire by commissioning new works. He will help develop the reputation of the Orchestra, both locally and throughout France, as well as on the international circuit. Before starting his position full-time, Christoph Koncz will be spending time in Mulhouse to prepare for the future seasons and to meet the public, and will carry the title of Music Director Designate. As part of his post in Mulhouse he is annually invited to conduct new productions at the Opéra national du Rhin.

Alongside this new position, Christoph continues to build his own international reputation conducting orchestras such as the Orchestre de la Suisse Romande, Philharmonia Orchestra London, Orchestre Métropolitain de Montréal and Hong Kong Philharmonic.

During the upcoming season, Christoph Koncz will appear for the first time with the London Symphony, hr-Sinfonieorchester Frankfurt and Swedish Radio Symphony as well as at the National Theatre Prague and the Wiener Staatsoper. He will also return to the New World Symphony Miami and the Opernhaus Zürich and make further debuts with the Stuttgarter Philharmoniker, Düsseldorfer Symphoniker, Rundfunk-Sinfonieorchester Berlin, Royal Northern Sinfonia, Orquesta Sinfónica de Castilla y León, Aarhus Symphony and Tampere Philharmonic.

Currently in his fourth season as Chief Conductor of the Deutsche Kammerakademie Neuss am Rhein, Christoph Koncz also maintains a special relationship with the French period instrument ensemble Les Musiciens du Louvre, founded by Marc Minkowski:

Comments:

​"I am overjoyed to begin this new collaboration with Christoph Koncz. His arrival begins a new chapter for the Orchestra. I am convinced that his proven qualities as a great musician will enhance even further the performances of the Orchestra. Together we shall do all we can to increase its reputation in Mulhouse, in France, and internationally, so that it will become a true ambassador for its City."
Guillaume Hébert, General Manager

​"I am delighted to welcome a personality such as Christoph Koncz. He will take the Orchestra to new heights, and I have no doubt that he will also have much to learn from them. The greatness of the Orchestre symphonique de Mulhouse has always come from its musicians and conductors. The public will be happy to discover the new Music Director who will be conducting this prestigious ensemble. A new and exciting artistic chapter is beginning."
Michèle Lutz, Mayor of Mulhouse
Ed Milner
Associate Director, Artist Management