Martin Fröst premieres Xodus in Stockholm
29/4/2022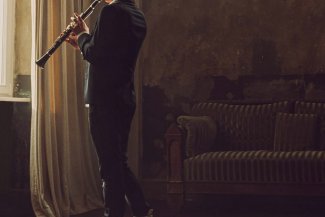 Martin Fröst and Jesper Waldersten's project Xodus (The Way Out Lies Within) premieres on 5 & 7 May at Konserthuset Stockholm with Royal Stockholm Philharmonic Orchestra and Eric Ericson Chamber Choir.
Xodus (The Way Out Lies Within) builds on the stunning success of Fröst's previous multimedia performances with the orchestra, which include Dollhouse (2013), Genesis(2015) and Retrotopia (2018). Xodus goes beyond the traditional conventions of the classical concert. This thrilling mixed media performance sees Fröst in collaboration with renowned Swedish satirist and artist Jesper Waldersten, whose live artwork and intriguing texts serve as a dramatic backdrop to the music-making. They are joined by stage & lighting director Linus Fellbom. Audiences can expect surprises, from artistic nods to Queen to early music, folk music, religious hymns, improvisation, and world premieres by Annamaria Kowalsky and Goran Fröst, and an entirely new version of Anders Hillborg's Hyper Exit.
Concert will be available to livestream from 22 May (via Konserthuset Play).
Jennyfer Fouani
Artist Coordinator