Virtual Circle event: Sacrifice
11/11/2021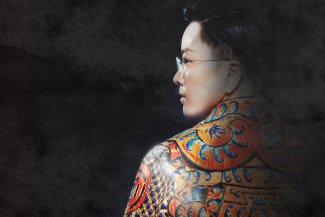 Sacrifice is a classic Peking opera adapted from The Orphan of Zhao, the first Chinese opera to become known in Europe. The live recording of Wang's Sacrifice not only focuses on the heritage and performance of this classic Peking opera for a new era but also includes recordings from the rehearsals, and interviews with Wang Peiyu, as well as Peking opera artists and masters.
What is Sacrifice about?
During the Spring and Autumn Period in ancient China, Minister Zhao Dun and General Tu'an Gu were two of Duke Ling's most influential subordinates. Tu'an set up a poisonous scheme and Zhao's entire family is destroyed. Only Zhao's daughter-in-law, Princess Zhuang Ji, is left to give birth to a son. The Princess instructs Cheng Ying, a physician, to bring the child to Gongsun Chujiu, a friend of the Zhao family, before Tu'an orders to kill the newborn infant. When Tu'an Gu learns that the orphan had escaped, he issues an order to kill all newborn babies in the city. With no other option, Cheng Ying and Gongsun made a plan to save babies in the state and Zhao's orphan by sacrificing Cheng Ying's own newborn son and Gongsun's life…

Sacrifice is a classic Peking opera title adapted from The Orphan of Zhao, the first Chinese opera to become known in Europe. On 8 September 1947, the legendary Chinese opera diva Meng Xiaodong performed Sacrifice in the Great Theatre of China. This was the last performance of the ​"Empress" Meng, and the performance has been hailed as a miracle in the history of Peking Opera and even in the history of Chinese theatre. 71 years later, the contemporary Peking Opera master Wang Peiyu, who is also known as the ​"Little Empress", performs the same play on the same stage, with the acting, singing and staging being identical to Meng's performance.
Performed in Mandarin, with English subtitles
Running time: 1h 25mins
In Chinese with English subtitles
Date: 12 December
Time: 19:30
Tickets: £10