Virtual circle concert: Eugene Onegin — Vakhtangov State Academic Theatre of Russia
12/10/2021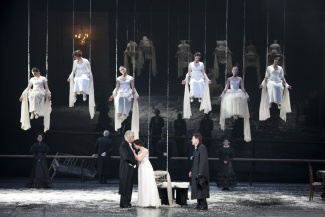 Eugene Onegin directed by Rimas Tuminas is extremely popular worldwide: it was successful in Europe and North America, in China and Israel.
Rimas Tuminas doesn't aim at a full scenic adaptation of Alexander Pushkin's legendary novel in verse. For his main theme, he chooses a story of Tatyana's love for Onegin, a story with prologue and epilogue.
The performance unfolds in the memory and imagination of the characters, the images are split between past and present. Therefore, there are two Onegins on stage: the mature one recalling the events and the second, younger one who takes part in them.
From the director, Rimas Tuminas:
"I wished to break the stereotypes. While working on the production of ​"Eugene Onegin" I was searching for a symphony of meanings, trying to approach the emotional and musical harmony of the novel. At the same time, it was extremely important to avoid exaggerated sensibility.
Eugene Onegin is the Light and the Beauty. In general, the Theatre is a territory of Peace and its Mission is to bring harmony in this world with love. It's the meaning of Art to expand ethical values, virtue and to attempt to make the world brighter."
Total run time: 3 hours (no interval)
Tickets: £10 and Pay What You Feel (Pay the price that works for you. But when choosing your price please consider the number of people who might be watching with you).
Date: 4 November 19:30 (various time zone available)
Book here
Cast:
Eugene Onegin: Sergey Makovetsky
Eugene Onegin: Victor Dobronravov
Retired Hussar: Artur Ivanov
Vladimir Lensky: Oleg Makarov
Vladimir Lensky: Vasily Simonov
Tatyana Larina: Olga Lerman
​'Tatyana's Dream': Irina Kupchenko
Olga Larina: Maria Volkova
Wanderer: Ekaterina Kramzina
Nanny, Dancing master: Lyudmila Maksakova
Tutor of the dancing classes: Pavel Tekheda Kardenas
Girls the dancing class: Anna Antonova, Olga Borovskaya, Natalia Vinokurova, Adelina Gizatullina, Ekaterina Simonova, Yana Sobolevskaya, Alexandra Streltsina, and Maria Shastina
Anisya, housekeeper: Anna Antonova
Larins couple: Alexei Kuznetsov and Elena Melnikova
Neighbours of Larins: Yury Kraskov, Valery Ushakov, and Artem Parkhomenko
Ulan: Nikolay Romanovsky
​'Bunny': Maria Berdinskikh
Moscow cousin: Elena Sotnikova
Cousin: Liubov Korneva
Prince: Yury Shlykov