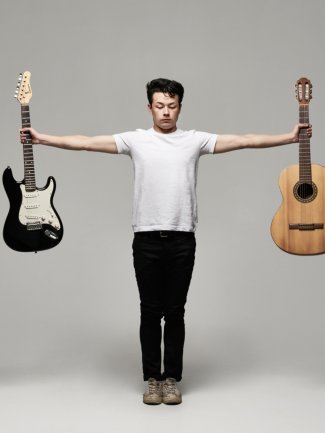 HarrisonParrott welcomes guitarist Sean Shibe to its roster for worldwide management
4/2/2021
"Shibe's music-making is masterful, beautiful and convincing in every way" The Times, 2020
With his remarkable versatility and creative programming, Sean Shibe brings a fresh and innovative approach to the traditional classical guitar by experimenting with instruments and repertoire.
He was the first guitarist to be selected for the BBC Radio 3 New Generation Artists scheme and was later awarded a Borletti-Buitoni Trust Fellowship. In 2018, Shibe received the Royal Philharmonic Society Award for Young Artists and in 2019 he won a Gramophone Award in the newly-created ​'Concept Album' category for his critically acclaimed recording softLOUD.
Sean is committed to the music of the great masters of the past and has made his own transcriptions of Bach lute suites and seventeenth century Scottish lute manuscripts. He is also continuing to expand the repertoire for his instrument by conceiving imaginative programmes featuring new music and commissions. Recent and future performances include music by Daniel Kidane, David Fennessy, Sofia Gubaidulina, Thomas Ades, Shiva Feshareki, David Lang, Julia Wolfe and the premiere of a reworked version of Georges Lentz's Ingwe, in collaboration with the composer himself. New commissions include David Fennessy, Daniel Kidane, Sir James Macmillan, Mark Simpson, Sylvia Villa and Freya Waley-Cohen.
Shibe has performed at internationally renowned venues and festivals including Alte Oper Frankfurt, Heidelberger-Frühling, Festspiele Mecklenburg- Vorpommern, Mosel Musik Festival, Musashino Hall in Tokyo, and the Bath, Lammermuir, East Neuk and Aldeburgh Festivals. He returned to the Marlboro Summer Music Festival on the invitation of Mitsuko Uchida, and has toured China extensively.
In 2020, Shibe signed an exclusive, multi-album agreement with Pentatone. The collaboration will be distinguished by the range and diversity for which Shibe is already known. His first solo recording on Pentatone will focus on Spanish impressionism and the French influences to be found in this music, presenting works by composers including Mompou, Poulenc, de Falla, and Ravel.
Jasper Parrott
Executive Chairman
Ance Kolibere
Associate Artist Manager