In memorium: Eva Coutaz
29/1/2021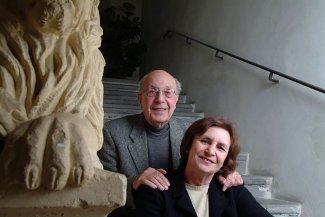 It is with great sadness that we learned of the passing of Eva Coutaz on Tuesday 26 January at the age of 77.
Eva Coutaz oversaw Harmonia Mundi's A&R policy for nearly 30 years and was then CEO until 2015, retiring in 2016. Working with her husband, Bernard Coutaz, who founded the label in 1958, Eva created an artistic roster that earned her immense respect and admiration.
In a press release, her colleagues at Harmonia Mundi praised her ​"high standards, rigorousness, loyalty to musicians and the consistency with which she built her catalogue … Her loyalty to the musicians was exceptional; she was a warm presence at every major stage of their artistic and personal journeys. She saw the label as a family united by artistic affinities and the desire to celebrate what she loved above all: music."
Eva will be missed by everyone at HarrisonParrott including Harmonia Mundi signed HP artists Pablo Heras-Casado, Nikolai Lugansky, Riccardo Minasi, Javier Perianes, Josep Pons, and Timothy Ridout, who mourn the passing of this inspirational figure of the music world. Our thoughts and condolences are with Eva's friends and family, and everyone at Harmonia Mundi.
Jasper Parrott:
"As a music loving teenager starting my record collection, and therefore long before I started to work in music in 1965, Harmonia Mundi was a shining example of how a recording label could be the best possible advocate and mediator between music and artists, especially in areas of the repertoire hardly touched by the bigger labels. Bernard Coutaz was the great innovator and ground breaker — and in the development of this unique and growing vision Eva was his partner and successor .
Her very sad passing may seem like the end of an era but under her guidance Harmonia Mundi has continued its role as a beacon of everything that Bernard originally conceived and the torch is now carried on by Christian and his team. On behalf of our whole company I salute the memory and legacy of Eva Coutaz."