Virtual Circle:

JAMES

WAY

&

THE

ASSEMBLED

COMPANY-

SCHÜTZ

A

CHRISTMAS

STORY
17/12/2020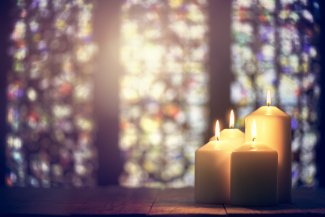 Join us for a festive concert during the holiday season on Monday 28 Decemeber 19:30. Schütz's ​'Christmas story' is a charming and succinct telling of the Christmas narrative. Unjustly neglected next to the more popular Christmas Oratorio by J.S Bach and Handel's Messiah, this quasi-dramatic retelling of the Christmas story is a joyful series of musical tableaux that deserves great exploration. In association with Barbara Hannigan's Equilibrium Young Artists this pre-recorded performance is brought to you by James Way and The Assembled Company from St George's Hanover Square, London.
'A magnetic presence' — The New York Times
The players:
James Way (conductor)
Elizabeth Karani, Jessica Dandy, Thomas Elwin, Trevor Eliot Bowes, Rory Carver, Héloïse Werner, and Ronald Nairne (singers)
Alicia Berendse and Aliayta Foon-dancoes (violins)
George Ross (cello)
Harry Sever (organ)
Matilda Lloyd and Aaron Akugbo (trumpets)
Lydia Gosnell and Miriam Monaghan (recorders)
Elinor Chambers and Sam Barber (trombones)
Concert duration approx 30 minutes.
19:30 28 December in GMT, CET, EST, PST
Prices: £5, €5.50, US$7, CA$9
Click on your region* to book your tickets:
UK
Europe
USA (East coast)
USA (West coast)
*or region closest to you