Erin Marie Wall: November

4

1975

 — October

8

2020
10/10/2020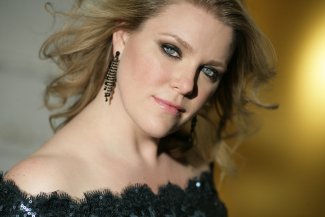 Erin Marie Wall passed away peacefully on Thursday, October 8 from complications due to metastatic breast cancer. She is survived by her husband, Roberto Mauro, children Michael and Julia Mauro, sister Shannon Wall, parents Michael and Suzanne Wall and many family and friends. Born in Calgary, Alberta, Erin grew up in Vancouver, BC. She studied piano at the Vancouver Academy of Music and attended Pt. Grey and Sutherland High Schools graduating in 1993. She pursued a singing career at Western Washington University, Aspen Summer Music Festival 1998, Rice University, Music Academy of the West 2000 and the Chicago Lyric Opera's Ryan Opera Center.
Erin developed into an extraordinary lyric soprano with an international career, who performed with most of the world's great symphony orchestras and opera companies. She was a Grammy Award winning artist and can be heard and seen on many CDs and DVDs. Besides her amazing professional career, Erin loved her home and family, often wishing that she could be home more. In addition she was an avid long distance runner having completed a New York Marathon and 2 Chicago Marathons. Erin was a bright light with an amazing gift and a huge heart. Just as her soul and special gift allowed her to lift the spirits of those she touched, may her spirit shine over all who knew her and forever keep her close to our hearts. The family would like to extend their thanks and gratitude to the amazing medical teams at Princess Margaret and Credit Valley Hospitals.
Throughout her career, Erin was profoundly grateful for the mentorship opportunities she received as an artist and was committed to paying those experiences forward by nurturing the next generation of voices and musicians. To carry on this legacy, her family is establishing the Erin Wall Tribute Fund at the Canadian Opera Company. In lieu of flowers, friends and family are asked to make a donation to the COC to provide vital support to the future of opera and in memory of Erin's life through this fund.
To make a donation visit coc​.ca/​S​u​pport, call 416 – 847-4949, or email donors@​coc.​ca.