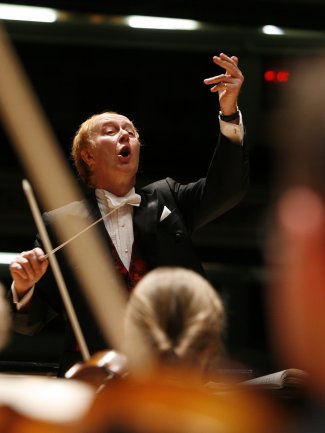 10

tips for young conductors
1/11/2019
Conductor Christopher Seaman offers his advice to young musicians who are considering a life on the podium
Beware bar lines




One of the things Adrian Boult always talked about was not putting a bump on every bar line but playing longer phrases. He was very concerned about that and always wanted us to play in four-bar phrases.




Less is more




Boult had a very long baton but didn't move very much, so when he really wanted something, he'd make a big move and the roof would fall in. He understood that less is more, which is a very important principle in conducting.




Draw the orchestra




If you want the orchestra to come to you, you have to draw them in, not to splat all over. Boult did that, as did all the best people I ever worked with – Svetlanov and Haitink, for example.




Watch and learn




I've never had a conducting lesson in my life. As Principal Timpanist in the London Philharmonic Orchestra, I sat and watched great conductors for five years and learnt by osmosis. When we played at Glyndebourne, there was an old Italian conductor called Vittorio Gui, whom I adored. I would sit and stare at him, so that he even complained about me. I watched people and tried to absorb it all.




Don't stop




When you start work on a piece with an orchestra, play it through at the beginning of the rehearsal. Don't play one bar and then stop and lecture the orchestra – that's a bad idea. Every conductor has a different physical handwriting and the orchestra has to get used to reading you. There may be the odd mistake, but professional players will usually get it right the second time if they haven't the first.




Strings matter




Early on, I was advised to know about string playing. Whenever a leader or any principal string player made a suggestion to their section that worked, I always remembered it, so I've built up quite a little collection of tricks. Don't tell players how to play their instrument, but the strings are the majority of the orchestra and if you have something practical to offer, you will get what you want.




Say why


If you ask someone to change the way they do something, they're entitled to know why, nearly always. ​

'

Would you play that longer – it has to sound more tragic? Would you play that shorter – it has to sound more cheerful?' Be very brief, though – no long lectures.


Know the score




When you first come to a piece, read the score over and over again, at a slow tempo. Each time you read it, more details come into your brain and you remember more. Unconsciously, your interpretation will grow within you as you get more closely acquainted with the music.




Respect the musicians




Orchestral players know a great deal more than most conductors realise they do. Many of them will know the piece or have played it many more times than the conductor has conducted it. You're working with a bunch of experts. Sometimes you can give them a brief reason why you're asking them to do something, but generally, they don't need to know what Beethoven had for breakfast – they just want to know whether you want something long or short.




Education, education




Any chief conductor of an orchestra owes it to their community to work with local schools. You must use your influence in any way you possibly can.