Conversation: Alban Gerhardt ​

"

Music: essential and transformative power"
5/4/2019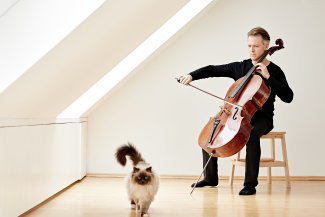 Interviewed and written by Alina Pullen
Alban Gerhardt has inspired audiences worldwide with his deep musicality, vivid stage presence and profound sincerity. Gerhardt believes in the importance of delivering high quality live music to a broad range of audiences and is passionate about music education for young people. Alban performed and given workshops at the schools, hospitals, public spaces and young offender institutions, using music as a tool to help and inspire others.
The eldest of five children, Alban feels extremely fortunate, having received the support from his family that enabled him to become a world-class cellist. Alban says, ​"For a while, I felt guilty for being so lucky, but then I thought that there is no better way to repay for the opportunities I've been given than introducing others to the world of music". Alban believes that learning music from an early age is an essential part of healthy brain development. He is therefore encouraging his children to learn an instrument without expecting them to become professional musicians.
"Learning an instrument can give you so many invaluable skills for the future, in particular, the ability to maintain high levels of concentration and being independent. The first time I played Bach on the piano, it took a tremendous level of concentration and brain processing to be able to coordinate polyphony – it was an exceptional exercise for my brain – I could almost feel how ​'the left and right brain' were forced to communicate. I explained to my sons, learning piano is as important as learning how to read and write. There is just so much more potential in your brain that you can grasp, and playing an instrument gives you the opportunity to challenge yourself in technical, creative and spiritual ways."
Music is a social activity as well. Alban refers to playing in an orchestra as an exercise of not just artistic excellency, but an integral part of social development and communication. ​"Growing up as a quiet teenager, I only opened up once I joined a youth orchestra. The experience of playing with others for the first time was very powerful. It was significantly different from playing just on my own. We all had to listen to each other, which is a skill necessary for any musician or an individual. That is why I believe why the Arts are so important in education."
Alban served as the Artist-in-Residence at the Oregon Symphony Orchestra in 2012 – 2015. The residency included various community development and music outreach events. Alban refers to ​'Music Connecting Brain and Body' – the special dance class for Parkinson's disease patients – as to one of the most memorable ones. Nearly a hundred local residents with the disease take a weekly dance lesson to help maintain and retain connection between the brain and parts of the body through music and movement. Alban played Bach and the dancers followed the music in synchronised choreography without leaving their seats.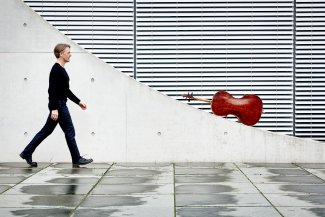 Perhaps the most moving experience Alban has had was at the St. Mary's Home for Boys – a centre for abused young men. ​"These kids were amazing, I was stunned at their connection and interpretation of my music. During lunch I sat next to a former child soldier from Liberia, who was very quiet. Somehow the conversation about music opened him up and he told me that he loves singing. His eyes lit up as he was talking about music. All he has seen in life was war and darkness, yet music was what mattered to him the most, the ultimate power behind his transformation."
In a heartfelt letter, Oregon Symphony have praised Alban's generosity and ardour to be a true ambassador for classical music:
"Over the course of this three-year residency, his personal performances throughout the region have had many important effects. First, his time with young musicians helped assure classical music of its future performers and future fans. Secondly, his performances in unexpected public spaces have gone a great distance in helping break down many of the barriers that stand in the way of classical music. These appearances, which have ranged from classrooms and arts centers to public malls, hotel lobbies and homeless shelters have presented both the music and our organization in an entirely new light — less formal, more approachable and welcoming."
Gerhardt is keen to bring music to every possible space and to anyone, as he mentions below, even if they were just born as it is never too early to appreciate classical music:
"Another fascinating outreach programme I took part in was based on an idea I borrowed from the Rolling Stones. I went on a Radio Tour in Germany: I would come to a radio station in the morning to ask people to call in on air and say where they would like me to perform in the evening. In Hamburg, a woman called and said that her sister is in labour so she would like me to come to the hospital and play there for the new born. That was incredible! They took me to maternity ward, and I arrived when the baby was already asleep. It was a great challenge to play without waking the baby, but it made the performance full of emotion and depth. I want to go to more places where music is needed: schools where music programmes were cut, juvenile detention centres, places where music can reveal a different side of an individual. There are unlimited ways to bring music to the community and I want to discover more of them. I believe all musicians should go somewhere where music isn't introduced. It is always difficult but most rewarding."
In conclusion, Alban hopes to be able to contribute as much as possible to the musical development of communities and young people through participating in Artists for Inclusivity programme of Harrison Parrott Foundation in collaboration with Tri-Borough Music Hub.