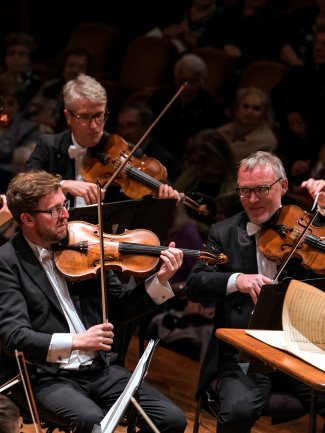 Danish National Symphony Orchestra Tour Toshiba Grand Concert
7/2/2019
DNSO embark on a 10 concert tour to some of the most significant venues in their Japanese debut for the 38th edition of the prestigious Toshiba Grand Concert with conductor Fabio Luisi. The Orchestra will give eight concerts (two private) from 12 – 22 March 2019, including two concerts at Suntory Hall in Tokyo. They are joined by soloists Yukio Yokoyama and Arabella Miho Steinbacher. The tour consists of two programmes; the first includes Nielsen's ​"Maskarade" Overture, Beethoven's Piano Concerto No.5, Op.73 ​"Emperor", and Tchaikovsky's Symphony No.5; the second programme features Sørensen's Evening Land (Japanese Premiere), Bruch's Violin Concerto No.1, and Beethoven's Symphony No.7.
In a tour which criss-crosses the country, the tour begins on 12 March at Tokyo's Suntory Hall, followed by Ishikawa Music Hall in Kanazawa (13 March), they then head to Aichi Arts Centre in Nagoya (14 March) and Fukuoka Acros in Fukuoka (16 March). Journeying to the south of Honshu, they perform at Ueno Gakuen Hall in Hiroshima (17 March), before heading back up to Tokyo for their second performance at Suntory Hall (19 March). The final two performances are at Hyogo Performance Arts Centre in Nishinomiya (21 March) and the tour comes to a close at Tokyo Electron Hall Miyagi in Sendai (22 March).
HarrisonParrott are delighted to have previously brought both NDR Elbphilharmonie Orchestra in 2017 and BBC Symphony Orchestra in 2018 to Toshiba Grand Concert.