It is with great sadness that HarrisonParrott has to announce the death of Oliver Knussen
9/7/2018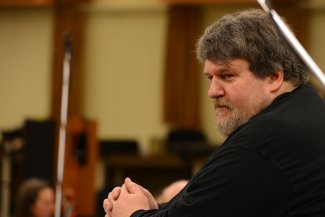 Oliver was a legendary figure in the music world. He was Artistic Director of the Aldeburgh Festival, Head of Contemporary Music activities at Tanglewood, Principal Guest Conductor of the Hague Residentie Orchestra, and Music Director of the London Sinfonietta as well as Artist in Association of the BBC Symphony Orchestra and the Birmingham Contemporary Music Group. He was appointed CBE in 1994 and was awarded the Royal Philharmonic Society Conductor Award in 2009.
He died, aged 66, at his home in Snape and will be very much missed by those who knew him. We offer our sincere condolences to his family at this very sad time.
"I worked with Olly for over twenty years and he was not only a wonderful man to work for, he was also a good friend. It was a privilege to know him and I will miss him more than I can say." — Jane Brown, Director
Jasper Parrott adds ​"I first became acquainted with Olly in 1968 when his prodigious talents were presented at the premiere of his first symphony with the LSO which he also conducted.
When Olly later agreed that he would like us to represent him I was already in awe: clearly one of the most distinctive composer's voice of our times, he was also a polymath who seemed to know everything about music of all epoques and styles — and his knowledge of literature and films was equally amazing.
He was always inexhaustibly generous to other composers and artists, especially to younger colleagues, and his great wisdom and uncompromising insights into what was true in music and art were always shared with great conviviality and humour among his countless friends and admirers.
We are all much impoverished by his passing."