Goldmund Quartet win Melbourne International Chamber Music Competition
9/7/2018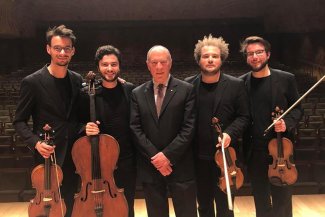 On Sunday 8 July Goldmund Quartet won the String Quartet Prize and Quartet Commission Prize at the Melbourne International Chamber Music Competition. This success in Melbourne comes only a few weeks after the Goldmund Quartet won 2nd prize at the recent Wigmore Hall International String Quartet Competition in London.
The Quartet performed Brahms' String Quartet No.2 to clinch first prize in the String Quartet Robert Salzer Foundation category. They followed this by winning a special award for the best performance of a commissioned piece for the competition by Holly Harrison.
To reach the final, in Round One they played Haydn's String Quartet in G major, op 54 No.1, Sokolovich's Commedia dell Arte III, and Rihm's Quartet No.4. They followed this in Round Two with Harrison's Balderdash and Ravel's String Quartet.
Established in 1991 and staged every four years, the Melbourne International Chamber Music Competition is one of the most prestigious events of its kind. The competition is open to string quartets and piano trios of all nationalities whose members are under the age of 35.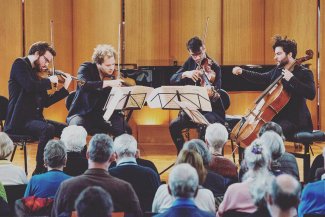 Sabine Frank
Director & Managing Director (HP GmbH)