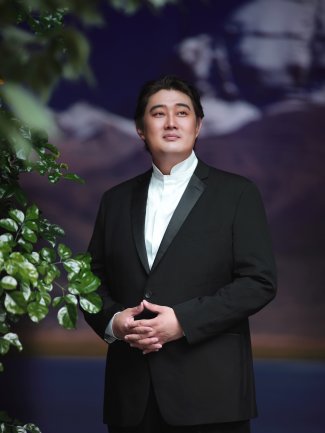 HARRISONPARROTT

IS

DELIGHTED

TO

ANNOUNCE

THE

WORLDWIDE

MANAGEMENT

OF

ESTEEMED

CHINESE

BASS-BARITONE

SHENYANG
25/6/2018
This former winner of the BBC Cardiff Singer of the World competition, graduate of the Metropolitan Opera's Lindemann Programme and Salzburg Festival's Young Artist Project not only embodies a 21st century bridge between the cultures of East and West, breathing life into the vocal treasures of his native heritage, but was also appointed Brand Ambassador for Montblanc in 2011 in recognition of his emerging stature as a prominent musical and cultural figure in Asia. Shenyang has been a regular presence on the stage of New York's Metropolitan Opera for the last decade, and recently broadened his original repertoire of Mozart, Rossini and Handel to include both Richard Strauss (Jochanaan in Salome) and Wagner (Gunther in Goetterdaemmerung) in a nod to a more dramatic future.

Much in demand for orchestral concerts, Shenyang has recently performed with Yannick Nezet-Seguin and the Philadelphia Orchestra, Jaap van Zweden and the Hong Kong Philharmonic, Daniel Harding and the Stockholm Radio Symphony Orchestra and Alan Gilbert and the New York Philharmonic Orchestra to name just a few in works by Mahler, Beethoven, Mendelssohn and Brahms and has a strong affinity with the music of Shostakovich which he has explored extensively in concert with Vladimir Ashkenazy . An accomplished Lieder singer, with a deep connection to German literature, Shenyang has given recitals around the world and recently presented Schubert's epic Winterreise with the Stradivari Quartet in a specially-commissioned arrangement at Shanghai's Symphony Hall to exceptional critical acclaim.

We look forward to discussing this exceptional artist with you further.